Small Cap Value Report (31 Jan 2017) - CPR, JOUL, QRT, ALU, SCS
Good afternoon, 
Apologies for the slow service today.
I thought it worked well yesterday, taking suggestions about which stocks to cover.
So if you have any suggestions, please let me know.
I provisionally intend to cover:
Thanks
Graham

---
Share price: 185.5p (+6.6%)
No. shares: 67.9m
Market cap: £126m
I covered Carpetright recently, in the SCVR of Dec 13th.
That was the interim results, when the company reported: 
We have made an encouraging start to the second half with a return to like-for-like sales growth in both businesses.  As we enter the important January trading period, we remain comfortable with the range of market expectations.
It has certainly delivered on that today, confirming as follows:

Other bullet points:
Number of UK stores reduces slightly to 427.
Rest of Europe like-for-like, constant FX sales (the best measurement) are up 5.4% (in reported currency, up 22.4%).
The CEO comments and lets us know that the store refurbishment plan is on track. Excellent news.
I haven't got much to add to what I said last time - namely, that I think there is a good chance that management can execute their investment plan, at considerable cost but with the opportunity of creating attractive medium-term benefits.
More than three quarters of CPR's operating cash flow in H1 was spent on the refurbishment plan. We can't expect much free cash flow here for now. But if it helps to restore strong performance, it will certainly have been worth it.

---
Share price: 216.5p (-2%)
No. shares: 87.5m
Market cap: £189m
Interim Results
Following the pre-close trading update in December, I warmed to this share, thinking that it could grow into its (then, 195p) share price.
The company is making that argument easier now: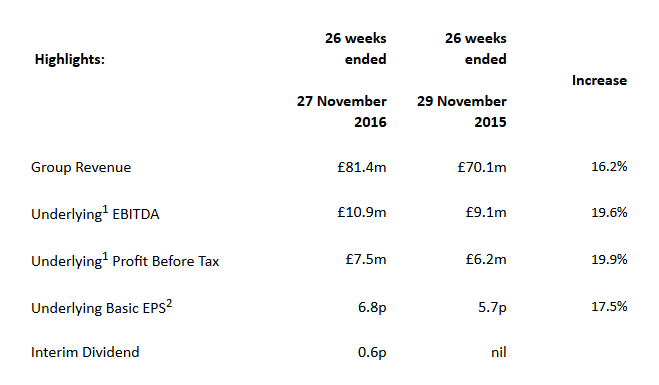 When I ran the numbers on last year's financials, I thought that a fair estimate of the full-year result was about £7.1 million in PBT.
Those results were riddled with "non-underlying" costs, and today's report again insists on making some adjustments.
They are fairly simple, though: just £0.3 million…

Unlock this article instantly by logging into your account
Don't have an account? Register for free and we'll get out your way
Disclaimer:
All my own views. I am not regulated by the FSA. No advice.
---
---

Carpetright plc is engaged in providing floor coverings and beds. The Company operates through two segments: UK and Rest of Europe (comprising Belgium, the Netherlands and Republic of Ireland). The Company trades from approximately 440 stores and concessions in the United Kingdom, as well as over 140 stores across Holland, Belgium and the Republic of Ireland. The Company offers free home estimating services. The Company's product range includes carpets, mattresses, headboards, laminate flooring, engineered wood flooring, rugs, vinyl flooring, luxury vinyl tiles and flooring accessories. Its luxury vinyl tiles are available in a range of designs, including tile, oak, pine and stone. It offers a range of beds and bed products, including divan beds, roll up mattresses, bed frames and others. It offers a range of options from memory foam mattresses to open coil and pocket spring mattresses. Its brands include Kosset, Essential Value, Storeys, Carpetright Clearance and Carpetright. more »

LSE Price
Joules Group PLC is engaged in the design and sale of lifestyle clothing, related accessories and a homeware range, through the multi-channel business structure embracing retail stores, e-commerce, county shows and events and wholesale. The Company has three segments: Retail, Wholesale and Other. The Retail segment includes sales and costs relevant to Stores, E-commerce, Shows and Franchises. The Wholesale segment includes sales and costs relevant to the sale of products to other retail businesses or distributors for onward sale to their customer. The Other segment includes income from licensing. The Company's products include womenswear, menswear, Little Joule, Baby Joule, Wellies and homeware. The Company operates 97 the United Kingdom and Republic of Ireland stores (including five concessions) and three franchise stores. Joules branded products are sold through selected wholesale partners, primarily in the United Kingdom, North America and Germany. more »

LSE Price

The Quarto Group, Inc. is an illustrated book publishing and distribution company. The Company is engaged in creating content and publishing books from a diverse portfolio of imprints. The Company operates through segments, including Quarto International Co-Editions Group; Quarto Publishing Group USA; Quarto Publishing Group UK, and Quarto HK. The Quarto International Co-Editions Group segment creates illustrated books that are licensed and printed for third-party publishers for publication under their own imprints. The Quarto Publishing Group USA segment creates and publishes illustrated books in North America and sells co-editions of them internationally. The Quarto Publishing Group UK segment creates and publishes general non-fiction and illustrated books in the United Kingdom market. The Company's books are sold in approximately 50 countries and in 39 languages. more »

LSE Price