Small Cap Value Report (4 May 2016) - NXT, BHS, AVG
Good morning!
---
Next (LON:NXT)
Share price: 5070p (up 1.8% today)
No. shares: 150.1m
Market cap: £7,610.1m
(at the time of writing, I hold a long position in this share)
Q1 trading update - It's clearly not a small cap, I know. The Q1 update this morning seemed a bit soft, but what's interesting is that the share price quickly rebounded from an initial drop. I'll stick my neck out here, and suggest that we might have reached a low after big recent falls. Mind you, I thought that at 5600p too! Market timing is not really my thing.
I've waited a long time to be able to buy Next shares at a reasonable price.
Today's update says that the retail stores are suffering, with sales down 4.7%. However, Next Directory is doing well, with sales up 4.2%. That seems odd, and lends credence to the claims that some of the fall in High Street sales could be weather-related.
I remain of the view that it's just a very competitive market, with lots of online competition, giving people less of a reason to visit the High Street. I don't believe that there is any issue with overall consumer demand - spending habits are just shifting. More money seems to being spent on leisure - e.g. J D Wetherspoon (LON:JDW) reports LFL sales up 3.8% today.
With clothing so cheap now, you do reach a point where the wardrobe is just full to bursting point. Apparently women today have something like 4 times as many clothes as they did a few decades ago.
As always, the update from Next is a model of clarity, check this out: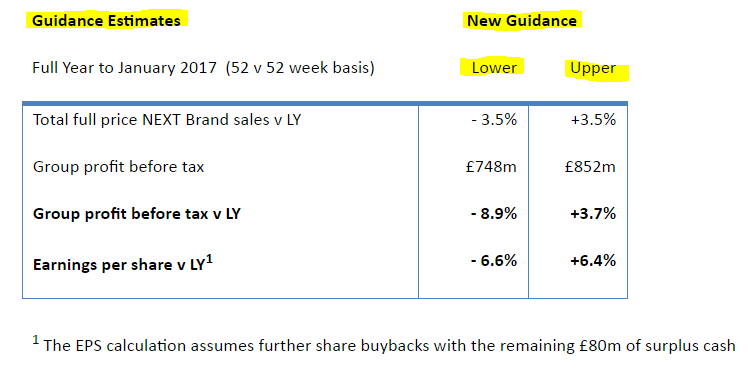 I have highlighted the word "guidance". So to all the companies who tell me, "We can't give guidance to the market" - my reply is, "Yes you can, and you should".
The upper & lower range, which is tweaked as the year progresses, is a wonderful way to manage investor expectations. Everyone should do this.
My opinion - this is a great quality business, making excellent margins. It's vastly better than say Marks and Spencer (LON:MKS) in almost every respect. Yet the price is now very reasonable, a fwd PER of c.11-12. That's a real bargain in my view. As always…

Unlock the rest of this article with a 14 day trial
Already have an account?
Login here