Small Cap Value Report (5 Dec 2014) - NBU, OUT, WTM
Good morning!
It's tough still out there in smallcapsville. Certainly for AIM the party is over, with the FTSE Intl-aim All Share Index (FTSE:AXX) having given up all of the 2013 bull run, and now 21% down from its peak in Mar 2014. Although fully listed small caps have fared somewhat better (the beige comparison line on the chart below). You can sometimes feel confidence melting away with small caps, and it feels like that again at the moment.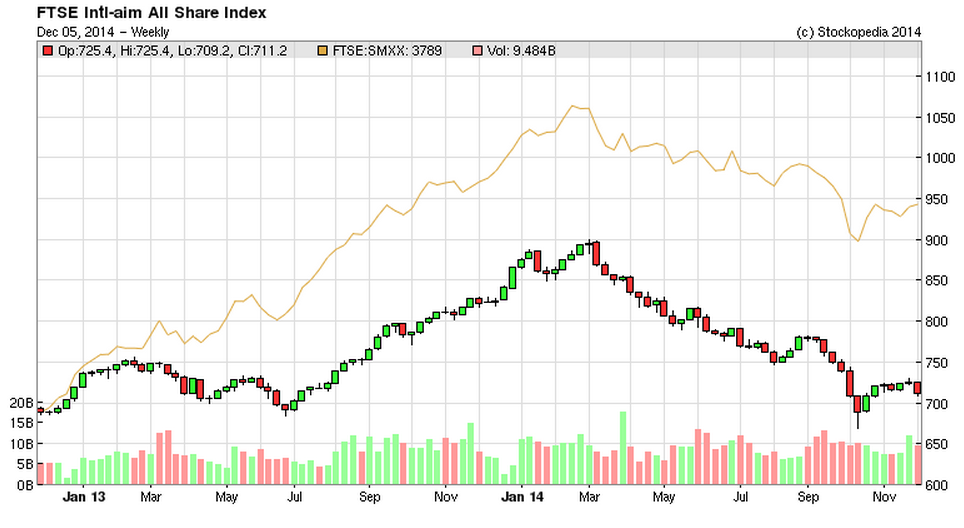 Chinese stocks
I've warned readers about these shares many times, so hopefully prevented some losses for you. It looks very much as if we're fast approaching the inevitable end game of these small Chinese stocks de-listing from AIM and disappearing without trace.
I see Naibu Global International Co (LON:NBU) is now down to only 8.5p, over worries that it won't be able to find another NOMAD following Daniel Stewart losing its NOMAD licence. Of course if the company was genuine, then insiders would be buying the shares in droves at this price. But it isn't, so they aren't!
As Was Shakoor said in a recent audiocast with me, whenever he's come across a company where he's had to seriously question if the numbers are real, they NEVER are real! He couldn't remember a single case which ended well, where the figures had looked too good to be true, or were otherwise seriously questionable. That's worth keeping at the front of your mind, and it's certainly helped me side-step a lot of the worst shares this year.
You also have to remember that AIM is the Wild West of the investment world. There are a lot of companies on AIM which are just plain bad - with dishonest management, and false accounts. Audits mean nothing, and regulation is totally ineffective. So very much a case of caveat emptor. It's also a great pity because there are perhaps 300-400 decent companies on AIM which are being tainted by association with all the grotty stuff. Action is long overdue, and personally I would like to see root and branch reform, driven by Government to sort things out, before the reputation of the London market goes completely down the drain.
There are plenty of good companies to choose from, so why do people even go near…

Unlock the rest of this Article in 15 seconds