Small Cap Value Report (6 Apr 2016) - HSS, BLTG, CYAN, ACSO, STY, SVR, TPT, RM2
Good morning!
Writer's block has hit me this morning - it does sometimes, you just can't think of anything to write, or get your head round the numbers. So today's report may not be very good, I'm afraid. 
---
Share price: 82.25p (down 5.2% today)
No. shares: 154.8m
Market cap: £127.3m
Results, 52 wks ending 26 Dec 2015 - the company says that it has performed in line with revised expectations. Although of course expectations have been dramatically lowered - from 11.5p EPS forecast for 2015 in Apr 2015, down to only 2.48p forecast EPS now.

Today the company reports 3.2p adj. EPS, so it looks as if they're a bit ahead, or possibly that the forecast data is prepared on a different basis, or hasn't been updated recently, which sometimes happens with smaller caps. Anyway, EPS has come in roughly where it was expected to, after the 2 profit warnings last year.
Outlook - sounds reasonably upbeat: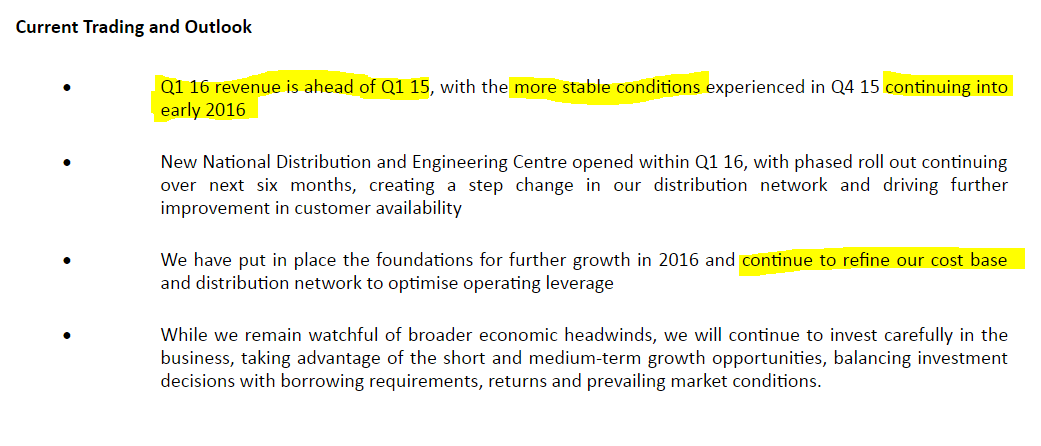 Directorspeak from the CEO says:
"We expect to see the full year benefit of the cost reduction programme implemented in H2 2015 delivered through 2016. We also expect to reduce our capital expenditure, following two strong years of fleet investment and the opening of our new National Distribution and Engineering Centre in H1 2016. Together with the cost reduction programme, we expect these actions to improve our cash generation and financial performance."
Dividends - this company has a very weak balance sheet, so it only pays modest divis. The final divi of 0.57p adds to an interim divi, to give 1.14p total dividend for the year - a yield of only 1.4% - very poor for this sector.
Balance sheet & net debt - you expect hire companies to have some debt, to finance part of their hire fleet. However, in this case, the company has no equity at all - it's actually negative NTAV of -£21.7m. So in effect, the entire hire fleet is funded with debt. That's a very imprudent capital structure, and makes this share uninvestable for me.
Net debt is an eye-watering £218.1m. That compares with £183.2m total property, plant & equipment. So it's effectively a LTV on the hire fleet of 119%. I would normally look for a LTV of about 50%. The difference works out at excess debt of £126.5m - which coincidentally is…

Unlock the rest of this article with a 14 day trial
Already have an account?
Login here