Small Cap Value Report (6 Dec 2016) - FCA action, GTLY, SIXH, IOM, OTB
 FCA Action

FCA proposes stricter rules for CFD products

This news may affect you if use leveraged trading products. The proposals include new disclosures, risk warnings and leverage reductions for retail clients, depending on their trading experience.

Shares in related companies are all currently down by more than 25%: IG Group (LON:IGG), CMC Markets (LON:CMCX), Plus500 (LON:PLUS).
One thing I'd note is that IG has some international diversification, earning 45% of operating profit from offices outside the UK last year. But I suppose there are no guarantees that other regulators won't decide to take similar actions in the future!
The FCA remarks that 82% of client accounts, in a representative sample, lost money on these products. While I'm certain that the vast majority of those clients did not intend to lose money, it would be really interesting to know how many of them are using CFDs for legitimate risk management purposes: to hedge the risk of their physical stock portfolio, or a large foreign exchange transaction they are about to make.
My simple point is that there are ways to judge client satisfaction, other than by how many of us are profitable!
---
Gateley Holdings (LON:GTLY)

Share price: 118p (+5.8%)
No. shares: 106.8m
Market cap: £126m

Half Year Results for the six months ended 31 October 2016
This is a commercial law firm, making it one of those few businesses on the stock market which would normally use the partnership model (instead of having external shareholders).
While all businesses are reliant to a greater or lesser extent on their employees, businesses like this are completely reliant on their staff. That makes them somewhat risky territory for external shareholders!
To lessen the risks, I look for the following two key elements:
A respected company name which has been around for a long time (Gateley has this).
A track record of treating external shareholders well.
Gateley has only been listed for about 18 months, but it has at least paid two dividends during that time. Today, with strong results, it announces a substantial dividend increase: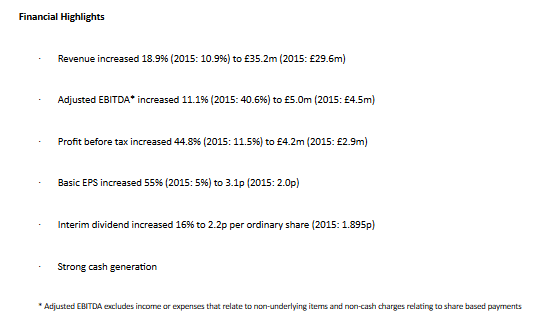 Trading is described as "robust", with the company "on track to deliver against expectations…

Unlock this article instantly by logging into your account
Don't have an account? Register for free and we'll get out your way
Disclaimer:
All my own views. I am not regulated by the FSA. No advice.
---
---

IG Group Holdings plc is a United Kingdom-based company, which is engaged in online trading. The Company provides contracts for difference (CFDs) in over 17 countries globally. The Company's segments include UK, Australia, Europe and Rest of World. The UK segment consists of its operations in the United Kingdom and Ireland, and derives its revenue from financial spread bets, CFDs, binary options and execution only stockbroking. The Australian segment derives its revenue from CFDs and binary options. The Europe segment consists of its operations in France, Germany, Italy, Luxembourg, the Netherlands, Norway, Spain, Sweden and Switzerland, and derives its revenue from CFDs, binary options and execution only stockbroking. The Rest of World segment consists of its operations in Japan, South Africa, Singapore, the United States, the United Arab Emirates and Dubai, and derives revenue from the operation of a regulated futures and options exchange, as well as CFDs and binary options. more »

LSE Price
CMC Markets plc is a holding company. The Company is a provider of online and mobile trading servicing both retail and institutional clients. The Company enables clients to trade over 10,000 financial instruments, including indices, commodities, foreign exchange (FX) and equities through its trading platform. It operates through three segments: UK and Ireland (UK & IE), Europe, and Australia, New Zealand and Singapore (APAC) and Canada. Clients can trade the markets via contracts for difference (CFDs), financial spread bets (UK and Ireland segment only) and binaries. With the Company's spread bet, a client bets a specific stake size per point movement of a product, rather than trading a specific number of shares or units. The Company offers four types of binaries: Ladder, One Touch, Up/Down and Range. It also offers Australian wholesale and retail clients the ability to buy and sell Australian Securities Exchange (ASX) and SSX (formerly APX) listed products and managed funds. more »

LSE Price

Plus500 Ltd is an Israel-based company that develops and operates an online trading platform for individual customers to trade contracts for difference (CFDs). Its online trading platform allows its customers to trade CFDs on over more than 2,200 different underlying global financial instruments comprising equities, indices, commodities, options, exchange-traded funds (ETFs), crypto currencies and foreign exchange. The Company enables individual customers to trade CFDs in more than 50 countries. The trading platform is accessible from various operating systems, such as Windows, iOS, Android, and Surface, as well as Web browsers. more »

LSE Price