Small Cap Value Report (6 July 2015) - TRAK, ATQT, MONI, VLK, RBG, BILN, VLS
Good morning!
Greece yet again dominates the agenda, with the surprise "No" vote in their referendum yesterday. The Futures were indicating a 2% sell-off today in the UK, but as it's turned out, the FTSE 100 is currently down only 50 points, less than 1%, which is well within the range of normal daily movements.
The Greek finance minister seems to have been pushed out this morning, and I've read soothing comments from Germany, saying they won't leave Greece in the lurch, so from what I can gather, those two things seem to have calmed the stock market. Although there are only small volumes traded in the small caps which I monitor, suggesting that most investors have discounted the Greek situation already, and are not inclined to panic sell on bad news any more.
So perhaps Greece is now subject to the law of diminishing returns, in terms of its impact on UK shares? I do hope so anyway, as the whole thing is now beyond ridiculous, having dragged on for what, seven years now?
The market crash in China doesn't seem to be bothering anyone here either, probably because it's a fairly self-contained & over-valued market, which went on a speculative bubble of its own, that is now unwinding with a crash.
So against all this kerfuffle, our market seems to be holding up pretty well. Although the FTSE 100 looks weak, the small and mid cap indices are actually quite strong at the moment - as you can see from the two year chart below - so certainly in 2015, small caps have been the right place to be, after a poor 2014: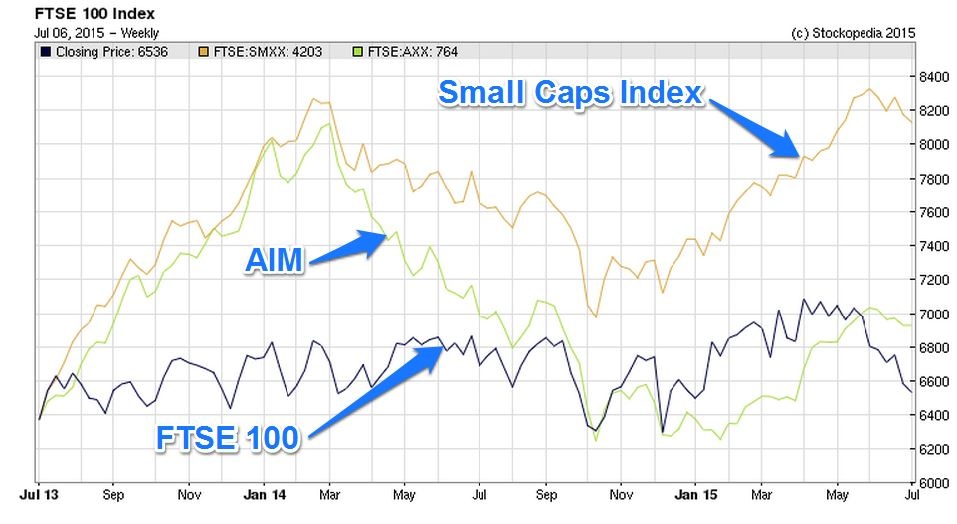 ---
Share price: 179.5p (up 2.3% today)
No. shares: 28.9m
Market cap: £51.9m
Final results y/e 31 Mar 2015 - I'm really impressed with these figures, from this small telematics group. Turnover has risen 94% to £17.9m, although it's worth noting that some of this increase is due to an acquisition in Oct 2013 (called BOX) contributing a full year's figures to the latest results, whereas it only contributed half a year in the prior year group results.
The narrative points out that organic revenue growth was 73%, which is extremely impressive. The gross margin has fallen considerably though, from 57.2% to 45.2%, which they say is due to the greater contribution from BOX, which…

Unlock the rest of this article with a 14 day trial
Already have an account?
Login here