Small Cap Value Report (6 Mar 2017) - DVO, UPGS, GAW
Good morning!
News is quiet today so I'll be taking care of things myself here while Paul takes a day off.
Regards
Graham
---
Share price: 181.4p (-2%)
No. shares: 167m
Market cap: £303m
Final Results
There are some big differences between the underlying and statutory results today from sausage skin maker Devro.

Statutory (or as I like to call it, actual) operating profit comes in at £15.4 million, down from £19.2 million.
Note that constant currency revenues fell this year (by almost 7%), but were more than offset by FX gains.

Dividend: Maintained. Covered by the underlying EPS but not by actual EPS.
Alternative Performance Measures: See explanation below.
Devro is undergoing a major transformation including the construction and start-up of two new plants in China and the US which completed in 2016, a restructuring of operations in Scotland and Australia initiated in 2014 and the Devro 100 programme which will continue until 2018.  The incremental costs associated with implementing this transformation are significant, and as a result have been classified as exceptional items.
What to make of this?
Potentially reasonable, except that it's a multi-year programme and so it becomes a bit of a stretch to have a big difference between underlying and reported results over several years.
This is the gap between underlying (or "before exceptional items") EPS and actual EPS since 2013: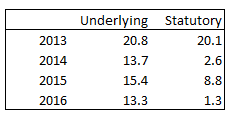 Net debt has also been rising sharply, up from just £36 million in 2013 to £154 million today.

Using the underlying profit measures, the company thinks it has been earning a return on capital employed over the last two years of c. 11.5%, which is ok if not spectacular.

My opinion
Checking the footnotes, I see that £20 million was spent during the year to establish new manufacturing plants, versus £11 million last year.
While I'm not sure about the other exceptional items, I can see the rationale for excluding these set-up costs from the underlying numbers.
I also see that cash flow was pretty strong (£39 million from operations), although more than a third of this was spent on taxes and interest and the rest was used up in capex, so that the company effectively had to borrow to pay the dividends.
Overall, it's hard for me to get too excited about potentially investing here.
The underlying quality does not seem to be fantastic, the investment programmes are expensive, and…

Unlock the rest of this Article in 15 seconds