Small Cap Value Report (6 May 2015) - BOO
Good morning!
It's quiet again for company results today - I must make a note to take this week as holiday next year.
Today's report will be a little later than usual, as I'm heading into the City for the analyst presentation for Boohoo.Com (LON:BOO) which is one of my favourite stocks at the moment. I'd better get my skates on, as it starts at 9am.
---
Share price: 27.38p (down 2% today)
No. shares: 1,123.1m
Market Cap: £307.5m
(at the time of writing, I hold shares in this company)
Preliminary results - for the year ended 28 Feb 2015 are out this morning. I've just got back from the analyst presentation, which was well attended - about 40-50 analysts there at a guess, so the company is certainly getting noticed. I asked an adviser whether the overhang from disappointed IPO buyers (who overpaid, at the 50p IPO price) has now cleared, and was told that they believe so - i.e. people who want to sell are now gone.
I'll spend a bit more time on this company, as it's one of my favourite growth companies at the moment, and is the only online etailer I can find which is strongly profitable, growing at a decent pace organically, has global reach, yet is still reasonably priced (house broker Zeus have it on a cash adjusted PER of 20.7 times their current year forecasts).
Here is the highlights table from today's results. I've highlighted the items that are most important, in my opinion;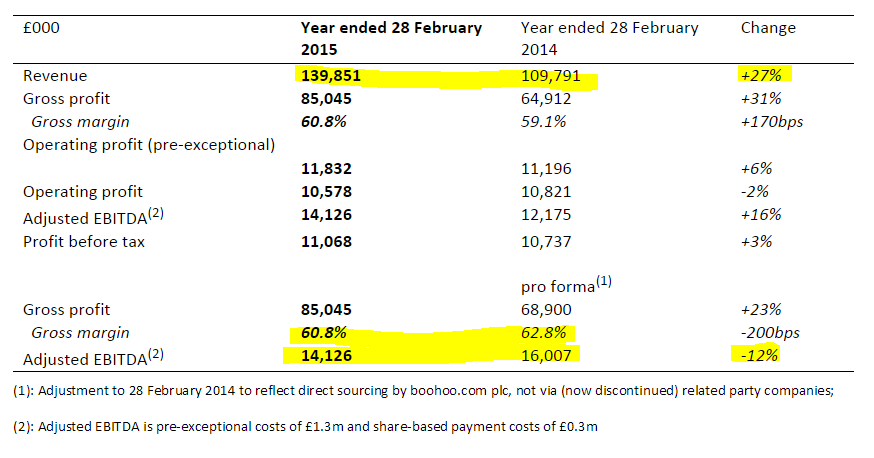 First thing to note is the strong top line growth, up 27% as reported in sterling, but up 31% in constant currency. BOO sales are strongest in the UK, at 67% of total turnover. Its other most important markets are Australia, France, and USA. The company sells into most countries in the world, but has decided to focus its efforts on the countries where it sees most potential. As the CFO jokingly commented,
"Mahmud's (the founder, who is known for his colourful language!) new F-word is 'focus'".
Mahmud only spoke once, and spent the whole meeting fiddling with his phone & looking preoccupied/bored, whilst Neil Catto (CFO) and Carol Kane (joint CEO) gave presentations & fielded questions.
Expectations at the time of the IPO last year were far too high, and the business had a slowdown in…

Unlock the rest of this article with a 14 day trial
Already have an account?
Login here