Small Cap Value Report (7 Apr 2015) - SOM, GBG, FLYB, SNTY, ADT
Good morning! It's good to be back, after the long weekend.
Cheshire investor evening
I'm still in Cheshire, visiting family, and have decided that it would be fun to do an investor evening up here, featuring a local listed company giving a presentation, drinks & networking, and a meal afterwards. So I'm trying to sound out potential interest. Therefore if you would be interested in coming to a Mello-type evening in Cheshire (I've found a venue not far from the M6, a large pub, with outstandingly good food, in Winsford (CW7 3AA), and have capacity for about 30 people.
If you would be interested in coming, pls let me know either by a comment below, or emailing me, or through Twitter. If there's enough interest, then I'll go ahead with it. People moan that everything is London-centric, so I thought it would be nice to do something a bit further north.
---
Share price: 121.5p (up 5% today)
No. shares: 56.2m
Market Cap: £68.3m
(at the time of writing, I have a long position in this company)
Final results - for calendar 2014. These figures look strikingly good. I've had my eye on this company for a while. It seems to be the market leader in making machines which level concrete floors, using high precision laser-guided technology. This creates extremely flat floors for warehouses & factories. I was a bit worried that the company's growth might not be sustainable, but the figures out today, together with strong outlook comments, have blown away those concerns.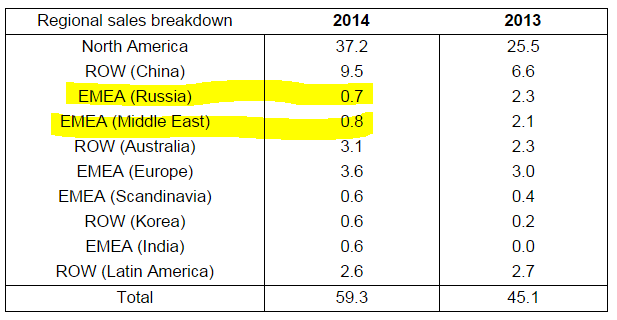 Turnover rose 31.5% to $59.3m, and operating profit almost doubled, from $6.4m to $12.6m (note that the company reports in US$). As far as I can tell, the growth seems to be be all organic, which is very impressive.
As you can see from the table on the above right, sales in Russia and the M.East dropped sharply, but strong growth in all other regions offset those falls several times over.
Taxation - note that 2014 contained a one-off benefit from a negative tax charge, so this has inflated earnings, and hence needs to be adjusted out when valuing the company. The group charged tax of 16.6% to the P&L in 2013, and that reversed round to a tax credit of -17.3% in 2014.
Note also that the number of diluted shares has fallen a…

Unlock the rest of this Article in 15 seconds