Small Cap Value Report (7 Oct 2015) - BDI, PLUS, IGP, GRA
Good morning!
I added several more sections to yesterday's report in the early evening, so you might wish to revisit that report here.
There have been some spectacular upward moves in oil & resources stocks this week, on a bounce in the price of oil - apparently due to news that supply is tightening, according to one of the morning notes I read today. So that's an interesting area - but not one I follow here. Although it could have spin-off benefits, as rising resources stocks will pull up the main Indices, and hence improve overall market sentiment.
---
There are some interesting price movements going on for companies that are "in play":
Share price: 104p (up 2.5% today)
No. shares: 38.0m
Market cap: £39.5m
As I reported here on 20 Mar 2015, the company reported a good outlook, and effectively put itself up for sale. As you can see below, that fuelled a dramatic surge in share price, as investors anticipated a takeover bid, but here we are over six months later, and nothing has come of it. Note the sharp price fall in the last few days. Is Mr Market telling us that a deal is not happening now? Looks like it.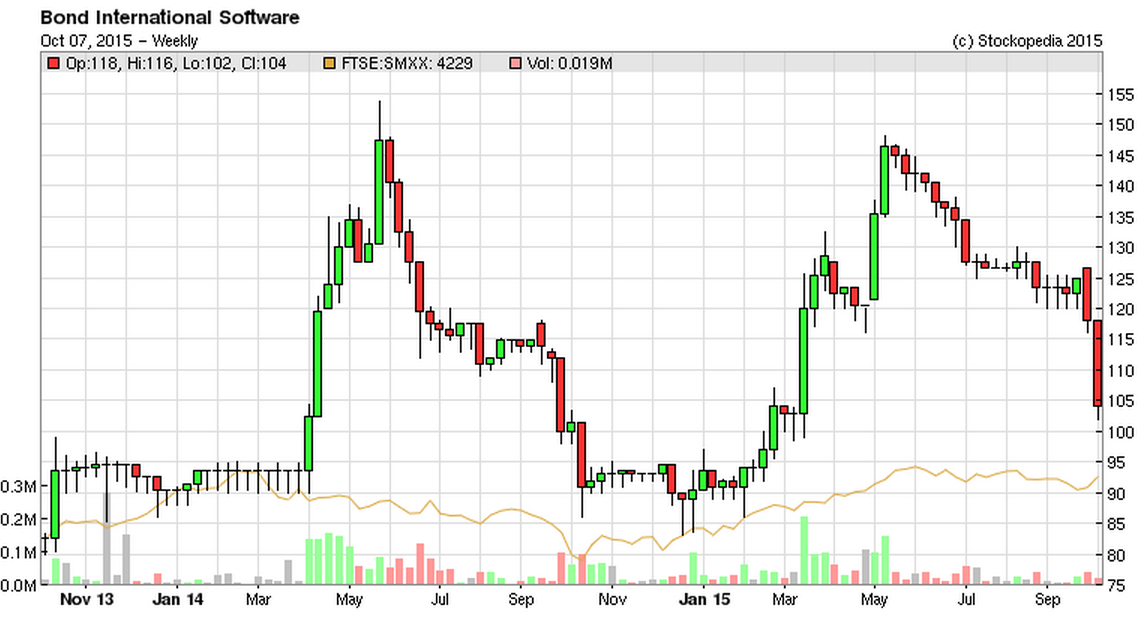 As regards its strategic review, the company recently said (on 28 Sep 2015);
In March 2015 the Group announced a strategic review to evaluate the Group's future strategy to maximise the potential of its market leading software and services and take full advantage of the Group's growth potential. This is a wide ranging review which is considering all strategic options available to the Group including partnerships, acquisitions, corporate divestitures, a sale of the Group or a new or extended bank facility to continue to invest in the Group. The Board can confirm that good progress has been made in this wide ranging exercise and that expects to make further announcements as to the conclusions reached in the coming weeks.
It's difficult to know what to make of that.
My opinion - I quite like this company, but have reservations about its weak balance sheet, and that the cashflow isn't great, once you look at all the costs being capitalised into intangible assets.
It's probably best to wait and see what the outcome of the strategic review is. Companies which put themselves up for…

Unlock the rest of this Article in 15 seconds