Small Cap Value Report (7 Sep 2015) - BRY, AVAP
Good morning!
It's a public holiday in the USA today apparently, so their market will not open. This is likely to mean a quieter day here in the UK.
---
Share price: 98.5p
No. shares: 83.3m
Market cap: £82.1m
Interim results to 30 Jun 2015 - this software company has a tendency to give an upbeat commentary with poor figures, and that's certainly the case today. Really upbeat narrative, but the figures are not very good at all.
Revenue fell nearly 10% in H1 to £14.1m, and recorded a pre-tax loss of £389k (vs. £1.4m profit in H1 of 2014). The company blames reduced turnover on forex movements, and "the timing of licence sales".
The narrative says that these results are "in line with market expectations for the full year", which will require a dramatically better H2 performance, since the market is expecting a full year profit of £4.7m, meaning that H2 will need to deliver over £5m in profit, which looks a tall order to me. Although the company says;
Anticipated strong performance for H2 2015 with visibility on 80% of revenues for the full year.
Valuation - the StockRank is 76 - so upper medium.
It's looking fully valued on most metrics below;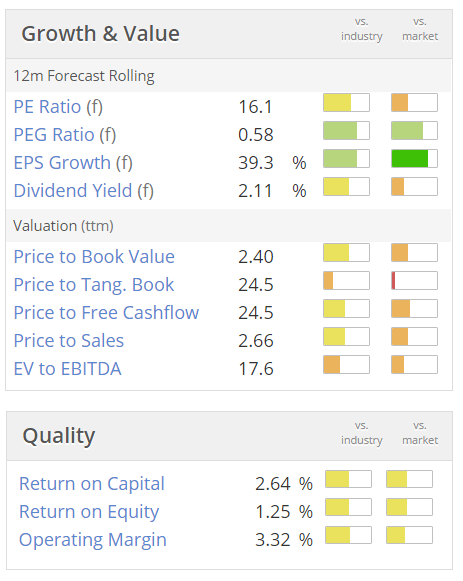 Balance sheet - reasonably good. The net cash of £6.2m is mostly money received up-front from customers, as is often the case with software companies.
Note there is a pension deficit of £2.4m, which has risen from £0.9m a year earlier.
My opinion - there's lots of positive-sounding stuff in the narrative, about new contracts, etc., but the H1 figures look disappointing. So personally I would be very cautious about wanting to buy shares at an £82.1m market cap, when it has just reported a loss for H1.
Companies which need to strongly out-perform in H2 to hit their full year forecasts very often struggle to do so. Therefore I suspect there is an elevated risk of a profit warning here if they don't manage to deliver the anticipated strong H2.
I'll check out the full year figures when they are published in the Spring of 2016, but for me anyway, risk:reward doesn't look attractive right now.
Another issue to consider is that Brady has a strong focus on energy & commodity markets. So they could at some point possibly suffer fall-out from the chaos in that sector. Maybe that is the underlying…

Unlock the rest of this Article in 15 seconds