Small Cap Value Report (8 Jan 2014) - TRCS, THAL, MTC, IGP, DOTD, IDOX, DIA
Good morning! Tracsis (LON:TRCS) is a growth company that has been mentioned here quite a few times. It offers a range of specialised products to the rail sector, including scheduling software and remote monitoring equipment (to identify faults and wear on things like overhead gantries & points, before they fail). I have previously felt that the valuation got a bit ahead of itself last year, but it is now looking as if the company is growing nicely into the valuation.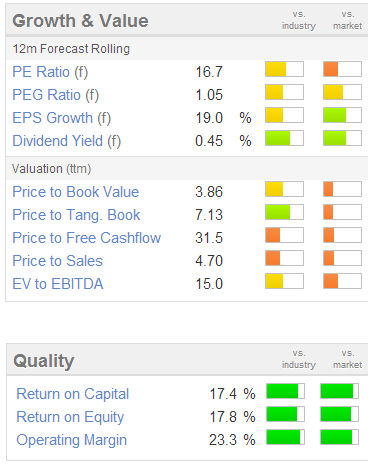 The latest share price of 198p (market cap of £51m) represents a forward PER of 16.7 times, using Stockopedia's usual blend of forecasts, which eliminates differences in year-end dates, making all companies comparable. That's not cheap, but the market likes growth stocks, and tends to put them on higher ratings, and Tracsis has had a very good track record of growth and sensible acquisitions in recent years.
It also has a solid Balance Sheet with net cash. So I like the company, and rate management highly. I also like the way management are very accessible to shareholders, which is important for smaller Listed companies in my view.
Note the strong return on capital & equity bars on right (green is good, red is bad). Being a growth company, the dividend is small.
That said, it's still a small company, with the inherent risk of lumpiness in contracts on the hardware side of the business. Combined with quite a high valuation that makes it a little too high risk for my personal investing taste, but each to their own, and I can certainly see the attraction to more risk tolerant investors than me.
Today brings good news of a significant £2.2m order from an existing client, for remote monitoring equipment. This is an initial order in a five-year framework agreement, so that augurs well for the future. The key sentences say;
An order of this magnitude provides the Group with additional confidence in meeting current market expectations...

Given the magnitude of this order, we believe Tracsis is well placed to win further contracts of this nature both within the UK and overseas.
That sounds pretty bullish to me, so I wouldn't be surprised to see these shares take another leg up.
The good track record of Tracsis is demonstrated well by…

Unlock the rest of this Article in 15 seconds
Already have an account?
Login here