Small Cap Value Report (8 May 2017) - ECK, Alfa, PFD, NUM
Good morning and welcome back!
---
Share price:44p (+8%)
No. shares: 244.3m
Market cap: £107m
There is some great coverage by Paul in the archives, if you want to read back through the recent history of this company, which provides call centre solutions and secure payment technologies for businesses.
In summary: it was highly rated, but had a problem in a non-core division, which set back expected growth for the year ending March 2017.

Since then (last September), it has been on a gradual recovery track, and today's update has further soothed investor worries:
The Board of the Company confirms that trading for the year ended 31 March 2017 was comfortably in line with market expectations, with revenue and margin growing by over 20% for the fourth year in succession. The Company continues to make good progress in the UK, and the Group's operations in the United States have produced a record year in terms of revenues and order book; as a consequence US-derived revenues will again represent a growing proportion of total Group revenues.
"Comfortably in line" presumably means at the upper end of the range of expectations (otherwise wouldn't it just be "in line"?)
Net cash is ahead of expectations.

In a further piece of news, the non-Exec Chairman is stepping down, in what appears to be an orderly transition.

My opinion

The Stockopedia Risk Rating is "Adventurous", which sounds about right.

On the one hand, you have a good history of profitability, you have a balance sheet moving back into net cash, and a company which owns its IP and seems to have plenty of expertise in its sector.

But there are some companies which are better suited for minority, external investors than others and this looks like one of those where perhaps the position of employees is a bit stronger than the position of external shareholders. I say that since it appears that a good deal of Eckoh's services rely to a greater or lesser extent on the skills of its own expert consultants.

So as always it's a balancing act. The stock does pay a dividend and business is growing. So do your own research and make up your own mind, it might be worth a look: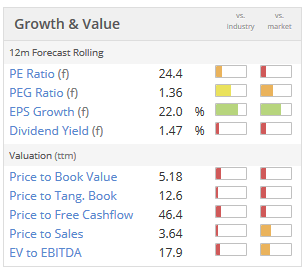 ---
Alfa Financial Software (New flotation)

This company is seeking…

Unlock this article instantly by logging into your account
Don't have an account? Register for free and we'll get out your way
Disclaimer:
All my own views. I am not regulated by the FSA. No advice.
---
---

Eckoh plc is a provider of multi-channel, integration and Payment Card Industry Data Security Standard (PCI DSS) payment solutions for contact centers. The Company's segments include Eckoh UK and Eckoh US. It offers secure payment solutions CallGuard and EckohPAY. CallGuard ensures contact centers remain secure and PCI DSS compliant by avoiding sensitive card data from being heard or seen by agents and from being stored on call recorders in network systems. EckohPAY allows consumers to make automated secure self-service payments through mobile devices, interactive voice response or Web. The Company also offers agent-assisted and self-service automation across voice, mobile and Web channels, giving users to choose how and when they make purchases or get in touch with their providers. more »

LSE Price

Premier Foods plc is a food company. The Company is engaged in the manufacture and distribution of branded and own label food and beverage products. The Company's segments include Grocery, Sweet Treats and International. The Grocery segment primarily sells savory ambient food products. The Sweet Treats segment sells sweet ambient food products. The International segment has been aggregated within the Grocery segment for reporting purposes. The Company offers a range of brands, such as Ambrosia, Bisto, OXO, Paxo, Sharwood's, Loyd Grossman, Homepride, Batchelors, Smash, Bird's, Paul Hollywood, Marvel and Angel Delight. Its Grocery strategic business unit (SBU) includes cooking sauces and accompaniments, flavors and seasonings, Quick meals and soups, and ambient desserts. Its Sweet Treats SBU includes the Company's cake brands, such as Mr. Kipling, Cadbury and Lyons. Its International SBU is focused on new markets across the world. more »

LSE Price

Numis Corporation PLC is a United Kingdom-based independent institutional stockbrokers and corporate advisors. The Company offers a range of research, execution, corporate broking and advisory services to companies quoted in the United Kingdom and its investors. The Company's services include research, sales and trading, investment companies, corporate finance, corporate broking, principle capital fund managers limited (PCFM), Numis indices and asset management. The investment company's research-driven approach focuses on specialist or differentiated mandates, including quoted equity, private equity, infrastructure, property, debt and other alternative assets. The corporate finance services include advice and transaction execution in relation to mergers and acquisitions, secondary equity issuance, convertible securities and bonds. The Company serves corporate clients and institutional clients. It is managed as an integrated corporate advisory and stockbroking business. more »

LSE Price