Small Cap Value Report (9 Aug 2016) - BOO, QRT, STM, SCS, HSP
Good morning!
Today I intend reporting on;
BooHoo (BOO) - positive trading update
Quarto (QRT) interim results to 30 Jun 2016 + CEO audio interview
STM (STM) - trading & strategy update
SCS Group (SCS) - trading update & refinancing
Hargreaves Services (HSP) - results y/e 31 May 2016
---
I note that sterling has been very weak lately (currently £1 = $1.298) - another leg down seems to have been triggered by the bizarre policy mistake by the Bank of England last week, to cut interest rates again to 0.25%. This looked like a panic measure, and I think was counter-productive.
Policymakers need to understand that sometimes doing nothing is the best thing to do. Businesses constantly adapt to whatever the circumstances are - but above all, simply want stability - then they can plan & invest with confidence. Tinkering around with policy, whether it be fiscal or monetary, can be harmful in my view.


Weaker sterling is GOOD for:
UK producers (more competitive against imports) and especially UK exporters
UK listed companies with overseas subsidiaries - their earnings translate into a higher sterling amount
UK inward tourism - which has already risen in response to cheaper sterling


Weaker sterling is BAD for:
Importers - e.g. non-food retailers - who will have to raise prices next year, probably hurting their profits.
More expensive imported goods increases inflation (which should trigger higher interest rates)
Higher inflation squeezes household disposable incomes, hurting discretionary spending (such as restaurants, pubs, etc.)
Foreign holidays become more expensive for UK people
The above isn't meant to be exhaustive, it's just what I could think of, off the top of my head. If I've missed anything important, drop it into the comments section below, and I'll add to the list.
Clearly the above is important to bear in mind when selecting which shares to buy or hold.

---
Share price: 79.5p (up 6.7% today)
No. shares: 1,123.3m
Market cap: £893.0m
(at the time of writing, I hold a long position in this share)
Trading update - regulars will know that this has been one of my favourite shares since the overdone sell-off after a profit warning in Jan 2015. Look at the chart since - who says don't catch falling knives?!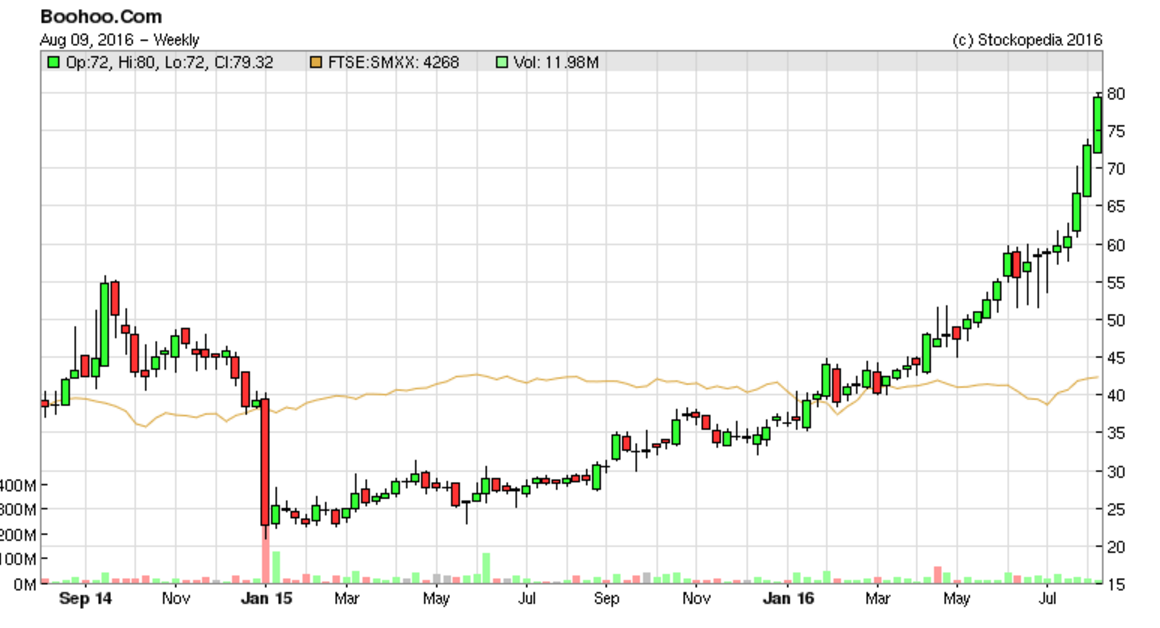 Now obviously, charts like that will correct, and then consolidate, at some point, but the big question is - when? The shares haven't been…

Unlock the rest of this Article in 15 seconds
Already have an account?
Login here