Small Cap Value Report (9 Jan 2014) - ANP, NPT, DEMG, IKA, MCB
Good morning! Attention is likely to be focused on the big supermarkets, several of which are reporting this morning. You can read about them in numerous places, so there's likely to be less attention paid to small caps this morning, so let's have a rummage around there and try to find some bargains!
Anpario (LON:ANP) has issued a one sentence trading statement, saying;
Anpario plc is pleased to announce that it continues to trade in line with expectations, and will put out a pre-close trading statement in early February.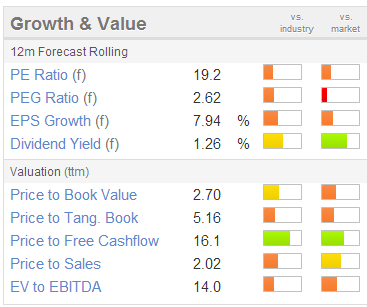 I really like the brevity - that is classy. The share price has been very volatile of late, having a big run up from Sep 2013 until a few days ago, when it suddenly dropped from 335p to 250p for no apparent reason. I think it was just a case of the share price getting overheated perhaps?
Certainly it doesn't look good value even now, after the sharp fall. As you can see from the Stockopedia growth & value graphic on the right, the forward PER is 19.2, and the dividend yield only 1.26%.
Growth rates have been nothing to write home about in the recent past either, but of course the market looks forwards and anticipates what it thinks will happen in the future. I don't know anything about the company, so do not have a view on how things might progress. My approach is to just search for value and GARP, and then do more detailed research when I find something that looks attractively valued at first glance, which this doesn't.
 Interactive gambling company NetPlay TV (LON:NPT) has issued a positive trading statement. They finished the year with a strong Q4, with revenue up 33% year-on-year. Full year EBITDA is expected at the top end of market expectations.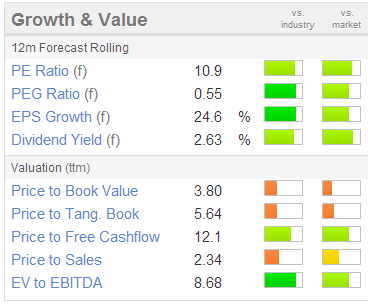 In normal circumstances I would rush out and buy some shares, as Stockopedia is showing a mass of green apart from PBV (which doesn't really matter in this case, as it's not an asset-backed business). However, the reason this stock is cheap is because of investor worries about a looming change in taxation of…

Unlock the rest of this Article in 15 seconds