Small Cap Value Report (9 Jun 2014) - FRP, LTC, COMS, SND
Good morning! I've not had a great start to the week, as I failed to save my work & have just lost this morning's report, so will have to start again. Drat!
For anyone who hasn't seen it already, I wrote part 1 of a 3 part series of articles, on the London Value Investor Conference which I attended a fortnight ago. Part 1 is Jon Moulton's speech, the renowned Private Equity investor behind Alchemy Partners, and Better Capital. I think his speech was full of great insights, so it's worth a read - click here for my article.
Parts 2 & 3 will follow when I can find some spare time, probably next weekend.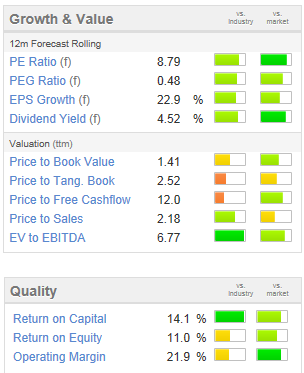 Shares in Fairpoint have looked cheap for a long time, and certainly on the forecast numbers look to be one of the best value shares in the market, as you can see from the many green bars on the usual Stockopedia graphics on the right.
In particular, the low PER and high dividend yield look attractive.
Whenever you find a low PER stock though, the first key question to ask is whether earnings are sustainable? In fact that's the key question to ask about all stocks!
In this case, the company is up against several headwinds, with the core business seeing declining activity as the last vestiges of the credit crunch work their way through the system.
There again, business could pick up again in future perhaps, when zombie owner-occupied households come under pressure from interest rate rises, making mortgages unaffordable. In the worst case scenario, if there's a run on sterling and interest rates have to be hiked up enormously, then it would be absolute carnage, with half the country going into negative equity, and many households facing repossession. I find it astonishing that people so blithely take on huge mortgages that they could never possibly afford to repay from their income, but just assume that capital value will keep rising forever.
Another line of business that Fairpoint operate in, PPI claims against banks, clearly has a finite lifetime, and is presumably now also in decline.
I'm not keen on the business areas that Fairpoint chooses to operate in - making money from debt advice is morally…

Unlock the rest of this Article in 15 seconds
Already have an account?
Login here