Small Cap Value Report (Fri 1 Feb 2019) - SCS, CTO, CML, SAA, COM
Good morning!  Graham has passed the controls to me today, it's Paul here!
To get you started today, here are some late comments from yesterday, on SCS (LON:SCS) and T Clarke (LON:CTO) . I put them in yesterday's report at about midnight last night, so most readers won't have seen them. Hence copied below;
SCS (LON:SCS)
Share price: 228p (down 2.6% yesterday, at market close)
No. shares: 40.0m
Market cap: £91.2m
ScS, one of the UK's largest retailers of upholstered furniture and floorings, today issues the following trading update ahead of announcing its interim results for the 26 weeks ended 26 January 2019 on 19 March 2019.
Overall, trading has been OK;
The Group has traded in line with the Board's expectations in the first half of the financial year. Whilst we are mindful of the risk from the impending Brexit outcome, we believe the Group's increasing resilience puts the business in a strong position to manage the continued economic uncertainty and take advantage of opportunities.
LFL order intake - growth is still positive for H1, but has slowed down somewhat.
When I last reported on ScS, here on 25 Oct 2018, LFL order intake growth for the first 12 weeks of FY 07/2019 was up 4.5%
Today, the company is saying that LFL order intake growth for the first 26 weeks is up 1.5%. Thi suggests that the later 14 week period must have had flat, to slightly negative LFLs, to have brought down the overall 26 week average from +4.5% to +1.5%. Even so, it's still not a shabby performance, given macro headwinds & deteriorating consumer confidence.
House of Fraser concessions - have now all ceased trading, so we can forget about that issue.
Valuation - remains attractively low, as I've mentioned several times recently.
Low PER, high dividend yield, and a strong balance sheet stuffed with (customers') cash - is a very attractive combination.
My opinion - this sofa retailer has remained resilient in tough market conditions. The share looks attractive, providing we don't see a meltdown in consumer confidence.
StockRank remains exceptionally good;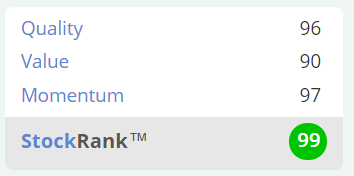 UPDATE 1 Feb 2019 - a brief RNS today…

Unlock this Article with a 14 day free trial
Already have an account?
Login here