Small Cap Value Report (Fri 10 Mar 2023) - AFRN, VRS, MORE
Good morning from Paul.
---
Explanatory notes -
A quick reminder that we don't recommend any stocks. We aim to review trading updates & results of the day and offer our opinions on them as possible candidates for further research if they interest you. Our opinions will sometimes turn out to be right, and sometimes wrong, because it's anybody's guess what direction market sentiment will take & nobody can predict the future with certainty. We are analysing the company fundamentals, not trying to predict market sentiment.

We stick to companies that have issued news on the day, with market caps up to about £700m. We avoid the smallest, and most speculative companies, and also avoid a few specialist sectors (e.g. natural resources, pharma/biotech).
A key assumption is that readers DYOR (do your own research), and make your own investment decisions. Reader comments are welcomed - please be civil, rational, and include the company name/ticker, otherwise people won't necessarily know what company you are referring to.
---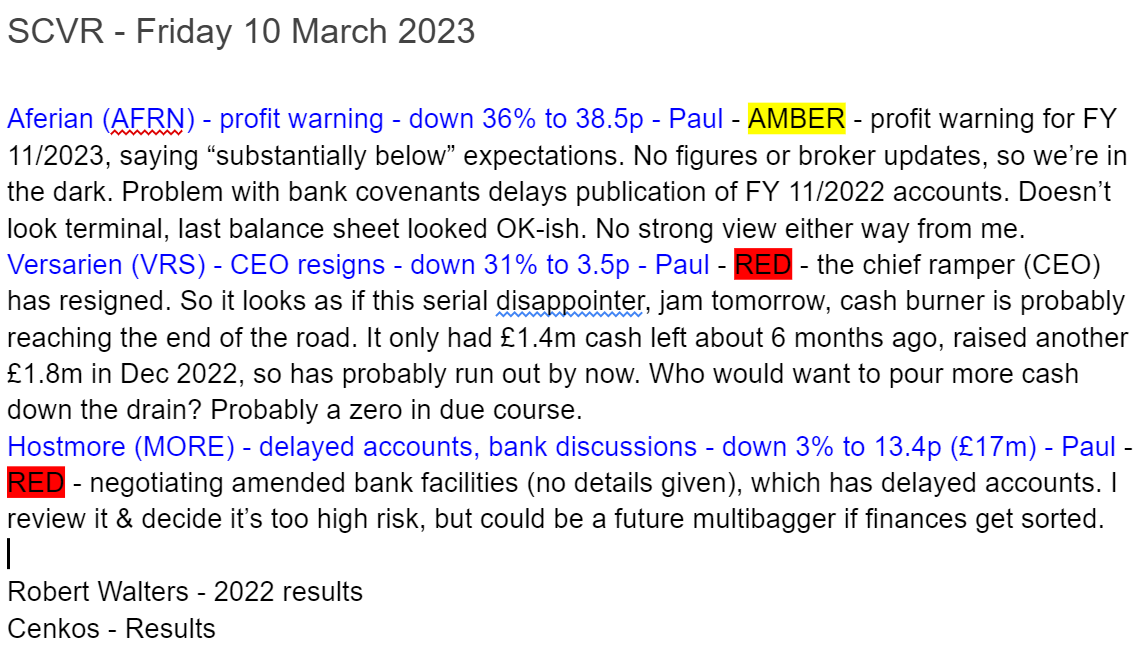 ---
38.5p (down 36%)
Market cap £33m
Trading Update, FY22 Results Delay & Board Update (profit warning)
Aferian plc (LSE AIM: AFRN), the B2B video streaming solutions company, today provides an update on current trading and its impact on the outlook for the financial year ending 30 November 2023.
24i business is trading in line with expectations.
Amino business has seen reduced demand -
…device sales in the first half have been materially lower than anticipated.
Recovery is not expected until later in the year, as a result it warns on profit -
… management now expect Amino's outturn for the full year ending 30 November 2023 to be substantially lower than originally anticipated.
Cost savings of $5m (annualised) have already been implemented (cost efficiencies, and R&D teams)
Outlook -
… the Board now expects Group revenue and adjusted EBITDA for the year ending 30 November 2023 to be substantially below its original expectations. Whilst device revenues continue to be negatively impacted by the current market environment, the Board has confidence in the growth drivers of the video streaming market as well as Aferian's ability to address that market. Notwithstanding the difficult trading conditions of the Amino business in the first half of the year, the Company is still…

Unlock the rest of this article with a 14 day trial
Already have an account?
Login here