Small Cap Value Report (Fri 10 May 2019) - CTO, PTSG
Good morning, it's Paul here.
The good news is that I'm finally starting to get over quite literally the worst flu/chest infection of my life. It's been absolutely horrendous - I've been bed-ridden for 22+ hours per day, for the last fortnight. It felt like I was almost suffocating some of the time.
Anyway, that's why my reports last week were so terrible. I got up at 7am each day, did a quick review of the RNS & wrote up some snippets. Then I felt so ill that I had to go back to bed, and nothing else happened for the rest of the day.
I'm only explaining this, because I don't want subscribers to think that poor quality reports are becoming the norm. Quite the opposite - I really want to boost the quality, now that the SCVRs are part of the Stockopedia subscription. You should see a marked improvement in the coming days/weeks, as I gradually get back on my feet again, health-wise. Thanks for bearing with me.
Also apologies to people who manage far worse health problems of their own. I'm lucky enough to have enjoyed good health for the last 50 years, but this last thing really did knock me for six. I did wonder if it was pneumonia actually. But anyway, it seems to be clearing up now.
Share price: 128p
No. shares: 43.0m
Market cap: £55.0m
... the Building Services Group, issues a Trading Update covering the period from 1st January 2019 to date.
This is a contractor for mainly complex electrical & IT fit-outs for office buildings. I visited one of their sites some time ago, and it was very interesting to see just how complex the work is for a major office block. The trouble is, that reinforced to me that the consequences of something going wrong, or being mis-priced and/or having cost over-runs, makes this quite a risky area to operate in. Especially as its profit margins are wafer thin.
This update is excellent, in its clarity, and providing hard figures, instead of waffle that we all too often get from other trading updates. So top marks to the company & its advisers;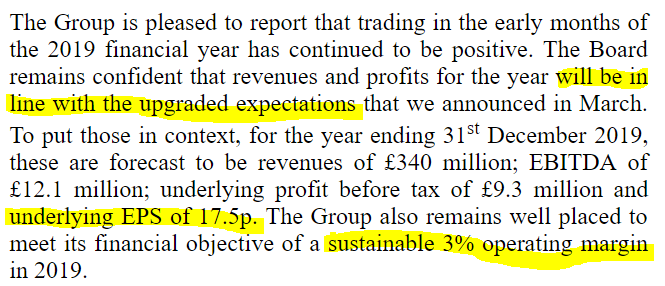 The 17.5p EPS figure coincides with the Stockopedia forecasts. That…

Unlock this Article with a 14 day free trial
Already have an account?
Login here