Small Cap Value Report (Fri 13 Sep 2019) - CCT, JDW, GAN, TM17
Good afternoon, Graham here.
Paul and I appear to have got our wires crossed about who was doing today's report.
I'm going to do a late version of the report now, with the help of Jack Brumby.
Sorry for the lack of communication and lateness! We are on it now.
Today's report covers:
---
By Jack:
Share price: 355p (-4%)
No. of shares: 21.4 million
Market cap: £76 million
Profit warning.
'Through a combination of these factors, the profit before tax for the Group for the year ended 31 August 2019 is likely to be in the range of £11.0m - £11.5m., slightly under the lower end of current market expectations.'
This toy company is one of the more popular stocks on the site - and recently, as many of you know, the share price has unravelled as a result of Hasbro bidding for Peppa Pig IP owner Entertainment One. It's been quite a dramatic decline.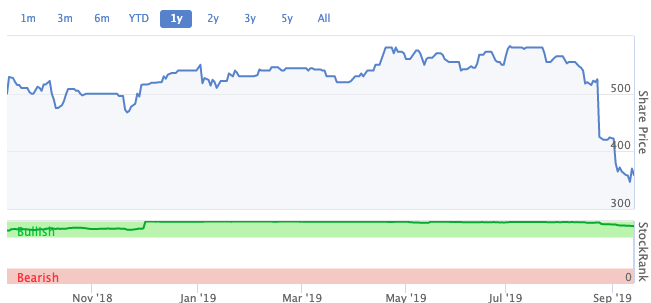 That's a drop of about 38% over the past couple of months. Alas, when it rains it pours.
The company says:
'The second half of the financial year just ended has seen several factors negatively impacting our business. The most significant factor has been the failure of the retail market in Scandinavia to fully absorb the sales vacuum caused by the liquidation in January this year of Top Toy, OVG-Proxy ApS's ("Proxy") largest customer until its demise.'
Add to this Sterling weakness (with the $/£ proving particularly painful for the group) and the fact that Character's recent purchase of Proxy needs a bit more TLC than was originally anticipated… It's clear that conditions are tricky for management right now. When it rains it pours.
As for Peppa Pig, Character says:
To date, there has been no dialogue between the Company and Hasbro as to its future intentions for Peppa Pig and, although it is unlikely that a definitive position in that regard will be known for some time, discussions have taken place with eOne and it has been agreed that the Group's current Peppa Pig licence (due to expire on 31…

Unlock this Article with a 14 day free trial
Already have an account?
Login here