Small Cap Value Report (Fri 16 Nov 2018) - TRAK, EYE
Good morning!
Obviously the political situation is taking centre stage at the moment. This has been such a long-running saga, that the stock market seems to have priced-in political uncertainty.
How do I see politics affecting the stock market? The chance of a Corbyn Government (a far bigger risk to company earnings than Brexit, in my opinion) still seems very remote, thanks to the fixed term rules. So a Government apparently no longer has to call a general election, even if it loses a no confidence vote.
Nobody seems to like Mrs May's deal. So what happens next? She seems to have an extraordinary ability to stagger on, regardless of anything that's thrown at her. That would be a great plus, if she were actually competent. Having an incompetent, but extraordinarily stubborn & tenacious PM, is surely the worst of both worlds.
Conspiracy theories, suggesting that we're being manipulated into abandoning Brexit, are looking more credible by the day.
The way I look at it, is that chaos is the new normal. We just have to live with it, and share prices have already discounted the uncertainty.
---
Share price: 22.5p (down 65% today, at 13:45)
No. shares: 36.0m
Market cap: £8.1m
Half year results & trading update
Trakm8 is a UK based technology leader in fleet management, insurance telematics, connected car, and optimisation.
Awful results today, have clobbered the share price. Bad luck to shareholders here.
H1 was heavily loss-making, and I think the big issue is now whether the company can survive, given that debt has risen sharply?
I've highlighted the items below which concern me the most;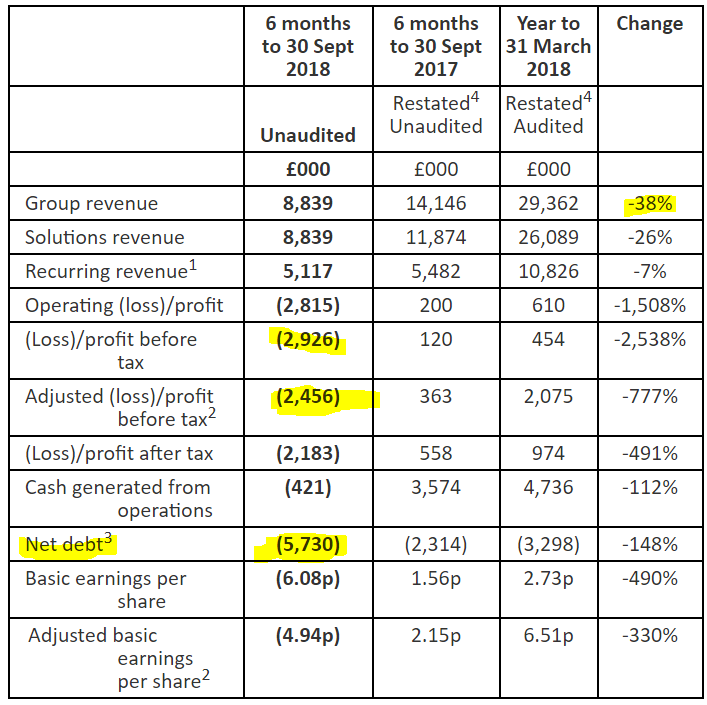 Various reasons are given for the poor performance - see RNS if you're interested.
Outlook - the dreaded H2 weighting strikes again;
Since the Group's trading update announced in September 2018 it has become clear that the improved H2 financial performance, driven by continued growth in the telematics business, will not materialise as the Group anticipated.

Continuing delays in decisions by customers is preventing the return to the usual levels of success in Fleet and Optimisation, a move to a rental model in the automotive space, and the loss, due to sanctions, of a multi-million-pound contract for the supply of…

Unlock this Article with a 14 day free trial
Already have an account?
Login here