Small Cap Value Report (Fri 17 Mar 2023) - DFS, FNX, DOTD, RCH, NWOR
Good morning from Paul!
This week's "mystery share" for my podcast (i.e. my best value/GARP share of the week) is Eurocell (LON:ECEL)   - also note that there was a decent -sized Director buy as well.
Very quiet (nothing, basically!) for small cap results/outlook today, so I've done a proper dig into figures from DFS Furniture (LON:DFS) from yesterday, and a few quick comments below from brief reviews of other value/GARP small cap results which caught my eye earlier this week.
Today's report is now finished. Thanks for reading/contributing, and have a lovely weekend!
---
Explanatory notes -
A quick reminder that we don't recommend any stocks. We aim to review trading updates & results of the day and offer our opinions on them as possible candidates for further research if they interest you. Our opinions will sometimes turn out to be right, and sometimes wrong, because it's anybody's guess what direction market sentiment will take & nobody can predict the future with certainty. We are analysing the company fundamentals, not trying to predict market sentiment.

We stick to companies that have issued news on the day, with market caps up to about £700m. We avoid the smallest, and most speculative companies, and also avoid a few specialist sectors (e.g. natural resources, pharma/biotech).
A key assumption is that readers DYOR (do your own research), and make your own investment decisions. Reader comments are welcomed - please be civil, rational, and include the company name/ticker, otherwise people won't necessarily know what company you are referring to.
---
Agenda - there's no news today of interest, but I've got masses of backlog items, so will work my way through that list, until about 1-2pm finish time today.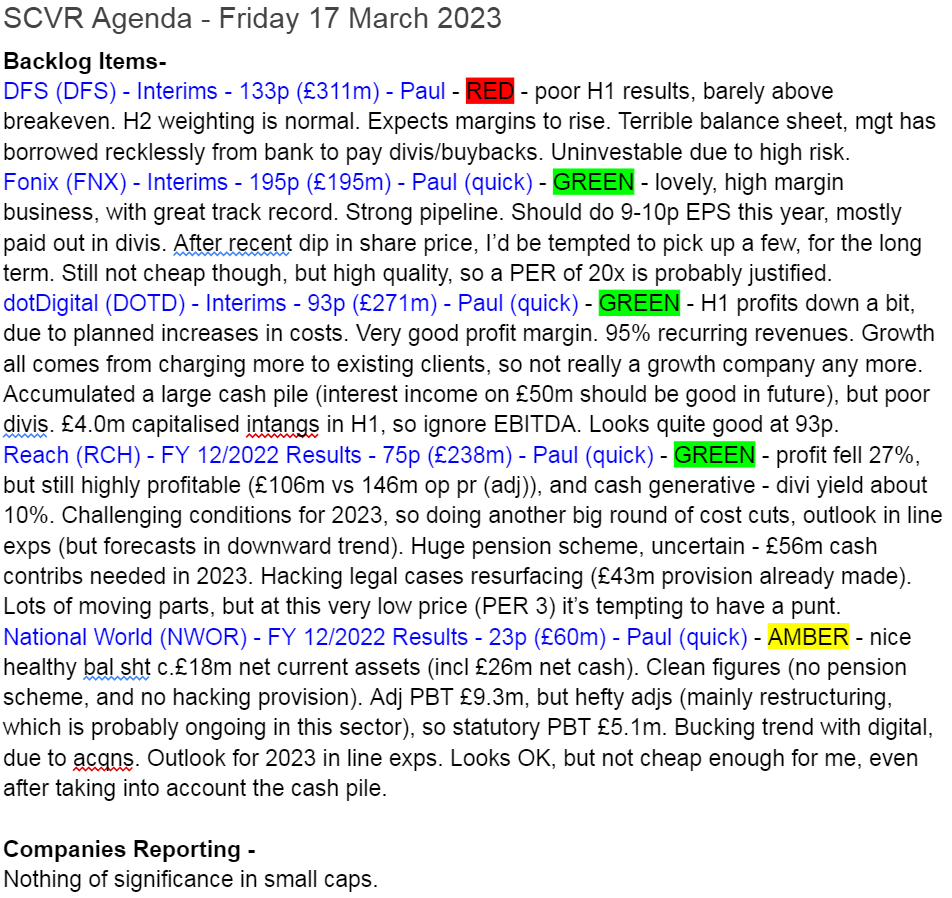 ---
Paul's Section:
133p (y'day's close)
Market cap £311m
DFS Furniture plc, the market-leading retailer of living room and upholstered furniture in the United Kingdom, today announces its interim results for the 26 week period ended 25 December 2022 (prior year comparative periods are the 26 weeks ended 26 December 2021 (H1 FY22) and the 26 week unaudited pro forma period ended 30 December 2018 (H1 FY19)).
I think it's getting too complicated, and largely irrelevant now, to use pre-covid comparisons. Too much has changed (particularly big…

Unlock the rest of this article with a 14 day trial
Already have an account?
Login here