Small Cap Value Report (Fri 19 July 2019) - DPP, VANL,
Good morning (alright, afternoon…),

It's Jack here. Paul is otherwise engaged right now so I'm stepping in.
---
Share price: 8.63p

No. of shares: 249 million

Market cap: £19.36m
Domino's Pizza Poland has updated on first half trading. As the name suggests, this is the Master Franchise holder of the Domino's Pizza brand in Poland. When it comes to this small cap, a picture tells a thousand words: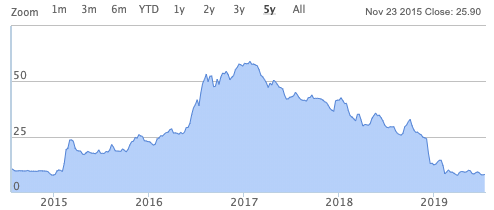 No surprises that what was once a High Flyer is now classified by Stockopedia's algorithms as a "Speculative Micro Cap Sucker Stock".

Ouch.
It has been a bumpy ride for shareholders in a company that promises much but has so far failed to deliver a single year of net profit after almost a decade as a listed enterprise.
We can see that management has been busy growing the top line quite consistently, however:

DPP has been busy rolling out its store estate and this rapid growth continues to result in losses. The question is whether or not you believe there is still a pot of gold at the end of the rainbow. When it works, the Domino's model can be almost ludicrously profitable - but it doesn't always work, and the market today is different from when it conquered the UK in the 90s and Noughties.

Online food delivery aggregators, for example, have their eyes firmly set on the takeaway market these days, and this new breed of competition has been explicitly listed by management as a risk going forward.
It appears as though the group has turned a corner and is moving on from a period of negative like-for-like sales (definitely a phrase that a small cap growth stock is not supposed to say), with like-for-like (LfL) sales 'building from March 2019'. Breaking that down a bit, the group had -1% LfL growth in system sales January-June 2019 on January-June 2018 but LfL growth in system sales were +5% in the March-June 2019 period (vs. same period last year).
The difference between these two figures are a set of tough January and February comps in 2018 that were boosted by a successful trial of nationwide TV advertising which has not been repeated this year (presumably DPP thinks it has not yet got the geographic…

Unlock the rest of this Article in 15 seconds
Already have an account?
Login here