Small Cap Value Report (Fri 22 June 2018) - THAL, PRP, WINK
Good morning! Today I'm interested to look at:
If there is time, I will then circle back to one or two stocks hanging over from earlier in the week. Cheers!
Graham
---
Share price: 84.5p (unch.)
No. of shares: 19.1 million
Market cap: £16 million
Final Results for the year ended 31 December 2017

The long-awaited results from this holding company are out at last.
It's a book value play, so I'm not too concerned about the profit figure. Thalassa was profitable in 2017 due to the business which it has disposed of, so the profit figure for 2017 is in any case irrelevant to the future.
Thalassa's balance sheet equity reduced last year from $27.3 million to $25.6 million, because of its share buy-backs.
The business disposal was completed on 1 January 2018, so it is not reflected in the financial statements issued today.
The company helpfully provides a pro forma look at the position after disposal: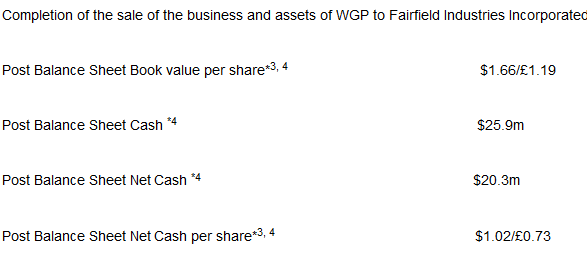 The total book value includes some very uncertain values. I can break it down like this:
Net Cash: $20.3 million = £15.3 million (latest exchange rates)
25% stake in Local Shopping Reit (LON:LSR) = £6.7 million (latest share price)
We then have the company's 100% stake in Autonomous Robotics Ltd ("ARL").

ARL is still in prototype stage. External financing for the project was sought in 2017, but has not materialised yet. The operating loss generated by ARL/Thalassa for the year amounts to $1.7 million.
I have no idea if ARL has positive value, so will write it down to zero for my own purposes.
A conservative estimate for Thalassa's  book value is therefore £15.3 + £6.7 million = £22 million, or 115p per share, to be reduced by further short-term losses at ARL.
There is another $10 million payment the company might receive in contingent consideration for its disposal last year. This would boost NAV to 154p per share.

Strategy

The Chairman's statement is fascinating.

As Thalassa no…

Unlock this Article with a 14 day free trial
Already have an account?
Login here