Small Cap Value Report (Fri 23 Feb 2018) - DRV, SGI, RMV
Good morning!

Stocks I've noticed so far are:
Driver (LON:DRV) - trading update, "comfortably ahead of Board's expectations".
Stanley Gibbons (LON:SGI) - proposed refinancing.
Rightmove (LON:RMV) - final results.
If you have any further suggestions, please let me know.
Also, Paul updated yesterday's article in response to many reader requests, so there are many stocks covered in that article now. You can read it here if you like.

Thanks,
Graham
---
Share price: 75p (+15%)
No. of shares: 54 million
Market cap: £40 million
This is a "global construction consultancy". It helps clients manage large building projects by providing a range of consultants from a wide variety of disciplines.
It was unprofitable during 2015 and 2016, then was refinanced in early 2017 and recovered to make a small profit last year. Paul described it as a "nice turnaround situation" when those results were announced.
The StockRank has recovered from a very weak score a year ago, to the current fantastic score: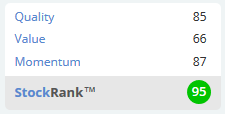 Today's update informs us that performance continues to improve:
Trading results in the first four months of the financial year ending 30 September 2018 are significantly ahead of both internal forecasts and the equivalent period last year. Current activity levels are also high and the Group has a healthy pipeline of potential assignments for conversion in the months ahead. Taken together these factors indicate that the outcome for the year as a whole is likely to be comfortably ahead of the Board's previous expectations.
So we are "significantly" ahead for the first four months of the financial year, and therefore the full-year results are likely to be "comfortably" ahead of expectations.

Why the discrepancy in language used between these time-frames? There is no guarantee that business will continue to be lively, of course.
At the annual results statement, the Chairman reiterated that it is "notoriously difficult to predict activity levels", and that "fluctuations in activity" are a feature of the business.
I was badly stung investing in a firm providing professional services to the construction industry, which has soured me from returning to the sector. No matter how cheap a company in the sector looks,…

Unlock the rest of this article with a 14 day trial
Already have an account?
Login here