Small Cap Value Report (Fri 4 Jan 2019) - JSG, G4M, CAMB
Good morning, it's Paul here!
There are 3 company updates today of interest to me (and hopefully you too).
---
Share price: 116p (pre market open today)
No. shares: 367.6m
Market cap: £426.4m
JSG, a leading UK textile rental provider, is pleased to provide a trading update for the six months to 31 December 2018.
This group has a 31 Dec year end, so it is reporting today on H2, and the full year.
The key takeaway is this;
We remain positive about the future prospects for the business and we expect to announce full year results in line with market expectations.
Other points;
Investment of £3.3m in its London laundry has completed on time & on budget
Aug 2018 acquisition of South West Laundry - is being successfully integrated
Signed contract to build a new laundry in North of England. Coming on stream in early 2020 - to increase capacity
Valuation - it looks quite attractive value on a PER basis.;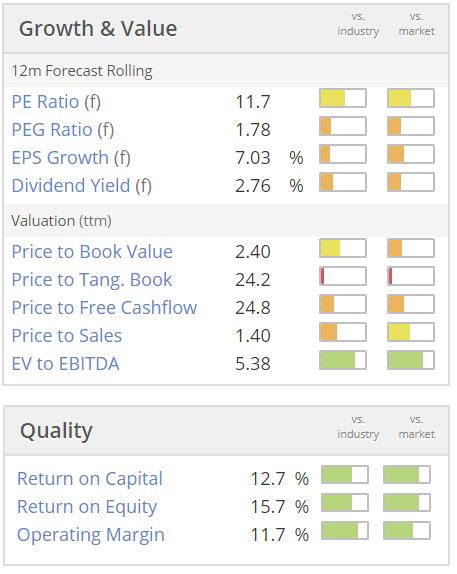 Balance sheet - it's always worth looking at the Price to Tang. Book field above, which in this case is 24.2. That's not very good - i.e. the market cap is 24.2 times NTAV on the balance sheet. I've had a quick look at the most recent (interim) balance sheet, and it only has £16m in NTAV. 
It's dominated by about £160m in intangible assets - reflecting acquisitions made, to expand the group. There's quite a bit of bank debt too.
My opinion - trading seems to be going fairly well.
Debt is not at alarming levels, but in current market conditions, I'm inclined to steer clear of companies with debt.
Note that this sector, of textile hire, has historically done badly in recessions. I recall in the past that big write-downs in the value of rental textiles had to be made, for customers which go bust.
It's difficult to see any particular reason to want to get involved with this share, in current wobbly market conditions. If the PER went into single digits, then it might make more sense to look at it.
---
Share price: 255p (down 50% today, at 10:14)
No. shares: 20.9m
Market cap: £53.3m
(at the…

Unlock this Article with a 14 day free trial
Already have an account?
Login here