Small Cap Value Report (Fri 5 Oct 2018) - MOTR, CALL, PLA, QUIZ
Good afternoon,
Drat, I forgot to put up the placeholder last night, my apologies. I blame Emily Thornberry, who worked me up into a lather, with her bullying of Isabel Oakshott on Question Time. She's a nasty piece of work if you ask me.
Anyway, it looks as if there's little for me to cover today. I'll be updating this article throughout the afternoon.
Share price: 211p (up 3.9% today, at 12:44)
No. shares: 97.6m
Market cap: £205.9m
Motorpoint Group PLC, the UK's largest independent vehicle retailer, is pleased to announce the following trading update ahead of its Interim Results for the half year ended 30 September 2018.
H1 revenues expected to be up c.9%
Operating margin similar to last year
Pleased with quality & mix of current vehicles in stock 
12th site, in Sheffield, is performing well
Pipeline of new sites under review
Outlook - sounds alright;
The Board continues to closely monitor customer confidence in light of the ongoing economic and political uncertainty. However, the Board is encouraged with the recent trading performance and remains confident that Motorpoint's independent and flexible model leaves it well placed to increase market share.
My opinion - it's striking how some companies are blaming Brexit uncertainty, the weather, football, etc, for poor performances. Whilst other companies are just getting on with things, and doing well. Motorpoint seems to be in the latter category.
The valuation looks attractive to me - see below - for a company with a proven formula, which is opening new sites. Could be worth a closer look, and adding to my watchlist for things to buy on any panic sell-off. The return on capital & equity look very good. It doesn't seem to need much capex. Just a piece of land with a few large sheds on it.
Flogging good quality secondhand cars to the public, at bargain prices, won't ever go out of fashion. So this is a good business.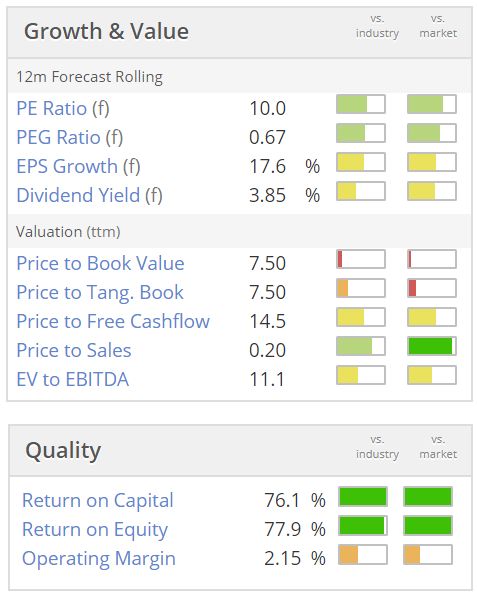 ---
Share price: 103.5p (up 9% today)
No. shares: 24.2m
Market cap: £25.0m
(at the time of writing, I hold a long position in this share)
Large trades
There's no announcement as yet,…

Unlock this Article with a 14 day free trial
Already have an account?
Login here