Small Cap Value Report (Mon 1 Apr 2019) - DEB, RNWH, INS, LWB
Good morning, it's Paul here!
Please see the header for the trading updates & results announcements which have caught my eye so far today.
The saga drags on, with yet another announcement today from Sports Direct.
Sports Direct is encouraging other DEB shareholders to write to the DEB Board, using this template, which has been published on the Sports Direct website;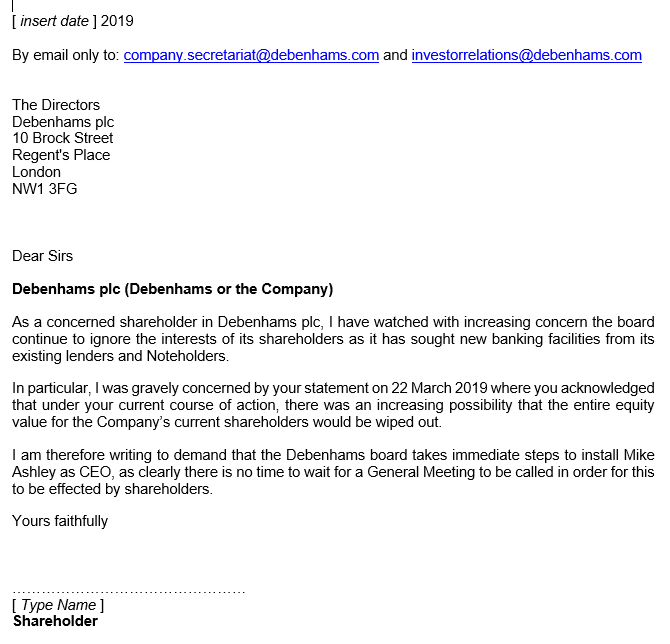 It's all looking rather desperate, and pretty amateurish. Several of the previous SPD announcements have been notable for being poorly written. It just feels like Mike Ashley is thrashing around, trying to salvage something from one of his many very poor investments in other retailers.
There was an interesting article in the Telegraph over the weekend, detailing the extensive, and seemingly haphazard investments he has made, managing to blow £300m in the process.
Genius retailer, or out-of-control egomaniac? You decide.
It looks to me as if the bondholders holding a gun to the heads of DEB's Board, makes it more likely they will succeed. In these situations, bondholders usually win, because debt ranks above equity in distressed situations. But who knows? It's interesting to watch from the sidelines, but definitely not a share I would go near.
---
Share price: 403p (little change today, at 09:22)
No. shares: 75.3m
Market cap: £303.5m
Renew (AIM: RNWH), the Engineering Services Group supporting UK infrastructure, announces an update on trading in advance of the interim results for the half year ended 31 March 2019.
Trading - it's an in line update today;
Group trading in the period was ahead of the previous financial year and in-line with forecasts. The Board remains confident in achieving its expectations for the full year.

Trading in the Engineering Services division has been strong whilst Specialist Building activities have reduced, as expected, due to our continued approach to contract selectivity.
Net debt is as expected now, and anticipated to be in line for the year end (end Sept 2019).
Order book - also as expected;
The Group's order book continues to be underpinned by long-term framework positions, including new awards during the first half of the…

Unlock this Article with a 14 day free trial
Already have an account?
Login here