Small Cap Value Report (Mon 19 Aug 2019) - IXI, GNK, RBG, BVC, MTI
Good morning, it's Paul here. I'll be looking after you this week.
HQ tell me that subscribers like it when I give a rough idea in advance of anticipated timings for each report. My plan for Monday is to write mainly in the afternoon, with anticipated completion time for this report of c.6 pm.
Tue, Wed & Thurs reports this week should be finished by late morning, because I have meetings lined up in London for the afternoons.
There's hardly anything to report on today.
Share price: 41.8p (up 23% today, at 15:48)
No. shares: 46.8m
Market cap: £19.6m
IXICO plc (AIM: IXI),

 

the data analytics company delivering insights in neuroscience...
The company description means this share is well outside my comfort zone!
As the +23% share price suggests, today's update is very good;
Given the performance in the period to date, the Board anticipates that the results for the full year ending 30 September 2019 will be materially ahead of current market expectations.
I usually assume that "materially ahead" means about 10% ahead.
Strong revenue growth in H2
New & expanded contracts coming on line
Increasing demand
Newly developed algorithms
Faster turnaround times
That all sounds encouraging.
Interim results - 6m to 31 Mar 2019 - these figures were published on 22 May 2019. Improved profitability, of £215k after tax (on £3.4m revenues in H1).
I focus on the after tax figure for any company that has a negative tax charge due to R&D tax credits (which I'm assuming is the case here). Since tax credits are a bona fide contribution to profitability (assuming the tax rules remain the same).
Balance sheet is notably strong, with almost £7.5m in cash, and no debt. That followed a placing, which seems to have raised more money than the company needs. Still, a balance sheet stuffed full of cash is very nice for investors, as it de-risks things considerably.
My opinion - this looks worthy of a closer look. I have no idea how to value it, as this is not a sector I have any knowledge at all on.
The very strong balance sheet, and good current trading, plus a strong order book, all look attractive.
Stockopedia is not impressed yet, with a low StockRank.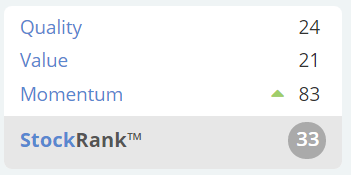 On the downside,…

Unlock this Article with a 14 day free trial
Already have an account?
Login here