Small Cap Value Report (Mon 2 Sep 2019) - MAI, CNIC
Good morning, it's Paul here.
Estimated timing today - I'll be writing here mainly from mid-morning, to mid-afternoon.
EDIT at 12:38 - today's report is now complete. There's hardly anything of interest in the trading updates & results category of the RNS today.
Twitter - a couple of friends have queried what has happened to my Twitter account? After another temporary suspension by Twitter, I just told them to stick it & permanently delete my account. Social media is killing society in my view. For me it's become a colossal waste of time, and a source of unrelenting yet unnecessary stress. Hence it had to go. I'm already feeling a lot more calm, and can spend my time & energy doing more constructive things.
---
Share price: 425p (down c.4% today, at 10:20)
No. shares: 14.3m
Market cap: £60.8m
Maintel Holdings Plc, a leading provider of communications cloud and managed services, announces its interim results for the six months to 30 June 2019.  
Reading through my previous notes here, the weak balance sheet has put me off considering any investment in Maintel. The main attraction of this share looks to be the high dividend yield - a key question being whether this is sustainable?
The numbers highlighted from the P&L show decent growth (remember this is just for 6 months trading);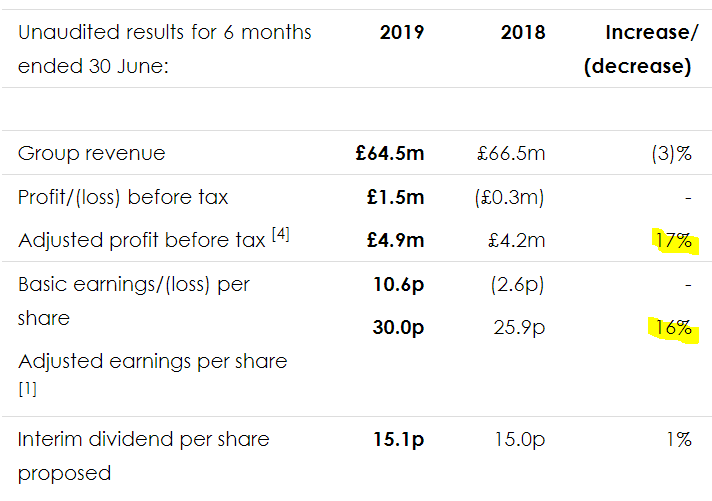 Outlook - the narrative with today's interim results sounds rather downbeat in tone in parts, and upbeat in others. Overall, it strikes me as confusing!
The all-important outlook section says;
The 28% growth in adjusted EBITDA, which includes a positive IFRS 16 adjustment of £0.5m in the period is pleasing, as we continue the transformation of our business, carefully managing our revenue mix and gross margin. We have seen cloud customers grow to represent 20% of our total revenue, up from 15% in 2018, and this is expected to continue to grow in H2 supported by our recently launched ICON Now and Insight Secure propositions.
Underlying demand for our services remains high and our new business pipeline remains strong with some significant project opportunities

,

however, we are seeing

 more customers expressing their concerns about the economy and the uncertainty around the prospect of a disorderly exit…

Unlock this Article with a 14 day free trial
Already have an account?
Login here