Small Cap Value Report (Mon 26 Feb 2018) - DIA, AVAP, QTX, RTC
Good morning! Please feel free to share your comments and suggestions.
My updated list of stocks to view having seen your suggestions:

Cheers,
Graham
---
Share price: 508p (-4.5%)
No. of shares: 32.5 million
Market cap: £165 million
This company makes industrial LED lights for traffic control, building sites, etc.

Its market cap was £320 million when I covered it last year - which I couldn't understand, given its organic revenue growth rate of just 3% (ignoring its gains from currencies).

It had just produced H1 profits of £4 million, on revenues of £92.7 million.
Today it announces full-year pre-tax profits of £3 million, on full-year revenues of £181 million.
So not only did H2 revenues fall by about 5%, it swung into a loss for the period.
The "underlying" profit numbers imply that H2 was still profitable, but the underlying items were very big both this year and last year.
Here's a breakdown of all the "non-underlying" items. They mostly relate to set-up costs in outsourcing production to a site in Mexico ("production transfer costs"), along with a miscellany of others: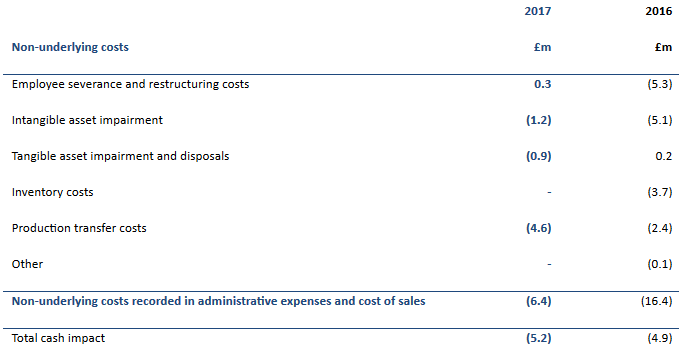 Problems at the outsourced manufacturing partner are to blame for the weak performance in H2, with issues which "hampered our ability to deliver orders to our customers".
The manufacturing partner was unprepared for the complexity and the scale of the manufacturing process required by Dialight. Certain Dialight employees are now stationed full-time there, improving their process.

As you might expect, these issues are ongoing through H1, so that the company is guiding investors for 2018 with the dreaded H2-weighting:
We are taking corrective action and in the near term are wholly focused on the manufacturing challenges which will continue to impact our results in H1. As a consequence our results for 2018 will be heavily weighted to H2 reflecting the successful resolution of these issues.
Market leader?
Despite the problems, Dialight remains very bullish on merits of its technology! It claims to be the market leader in industrial LED lighting.


Unlock the rest of this Article in 15 seconds
Already have an account?
Login here