Small Cap Value Report (Mon 29 Jan 2018) - STHR, UTW, CVR, FISH, SPE, CLLN, ANP, YU., ITM
Good morning! 
Thank you for suggestions, which I will prioritise for coverage.
There are a lot of updates today, so I may need to be selective.

Regards,
Graham
---
Share price: 368p (-1%)
No. of shares: 132 million
Market cap: £485 million
Final Results for the Year ended 30 November 2018
Mentioning this international STEM recruiter only briefly, for two reasons.
1) It doesn't get requested very much, and 2) its market cap is now pushing the limits of what we tend to cover here, after a strong share price performance over the past year.

I covered SThree a few times last year, and my overall stance on it hasn't changed. I think it's a very well-run international business with attractive geographical diversification and an excellent track record of profitable performance.
Today's results show further progress in the strategy to limit Permanent hiring activities, while expanding the more reliable Contract-based activities.
It's more and more international, as 81% of gross profits are now derived from outside the UK.
Some people might be reluctant to invest in this sector due to low margins and its hyper-competitive nature, and I can understand that position. But for an investor who does want to get involved in recruitment, I think this should be one of the first stocks they look at.

The algorithms are impressed too, giving it a StockRank of 97.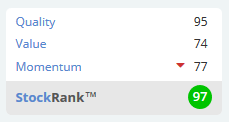 ---
Share price: 41p (suspended)
No. of shares: 78.5 million
Market cap: £32 million
Temporary suspension of share trading
I haven't studied this utilities consultant in any detail before, as my modus operandi is to find things that I might like to buy shares in, and there were more than enough red flags to keep me away from this.
On Jan 17th, Paul highlighted (actually he put it in bold) the risk of the company failing to get its July 2017 accounts published in time to avoid suspension. It was an important warning for anyone holding these shares, as that is indeed what has happened.
Prior to suspension, Utilitywise was trading on an official PE ratio of 5x, but it was no bargain. The algorithms on this website had correctly, I think, identified it as a Value Trap.
The big accounting problem…

Unlock the rest of this Article in 15 seconds
Already have an account?
Login here