Small Cap Value Report (Mon 30 Apr 2018) - SBRY/ASDA, UPGS, LUCE, IGE, REDS, SND
Good morning! I'm back home after a truly fantastic week which culminated in the Mello 2018 conference in Derby. Congratulations to all the organisers of this event, particularly David. I can only imagine how much work was involved behind the scenes.

Monday morning news is plentiful:
We also have trading updates from:
Edit; I elected to cover Image Scan Holdings (LON:IGE), instead of World Careers Network (LON:WOR), in response to a reader suggestion.

---
Share price: 310p (+15%)
No. of shares: 2189 million
Market cap: 6,786 million
Combination of J Sainsbury & ASDA

Results highlights look fine, overall. And the profit expectation for 2018/2019 is in line with expectations.

Underlying profit before tax increases by 1.4% to £589 million. Guidance for next year is £629 million.
Incidentally, these (unaudited) results are for the 52 weeks ending 10 March. We should reward companies who report in a prompt manner - much better than being kept in the dark for several months.
Despite the positives, note that return on capital employed has fallen slightly, from 8.8% to 8.4%, by the company's own measurements.
By Stockopedia's measurement, return on capital is lower than this: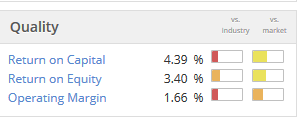 Supermarkets don't seem to have a great track record when it comes to generating attractive returns on capital.
One of Terry Smith's best articles, in my opinion, was written in 2014 for the Financial Times on the subject of Tesco (LON:TSCO), and why he would never own shares in it. He includes the following chart: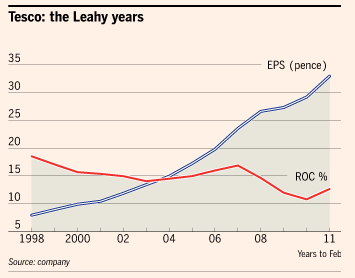 This return on capital metric can be measured in different ways, but…

Unlock this article instantly by logging into your account
Don't have an account? Register for free and we'll get out your way
Disclaimer:
All my own views. I am not regulated by the FSA. No advice.
---
---

J Sainsbury plc is engaged in grocery-related retailing and retail banking. The Company's segments include Retailing; Financial services, and Property investments. The Retailing segment is engaged in the operation of supermarkets and convenience. The Financial services segment includes the operations of Sainsbury's Bank plc (Sainsbury's Bank). The Property investments segment includes the Company's joint ventures with the British Land Company PLC and Land Securities Group PLC. The Company has approximately 2,000 food suppliers and over 1,000 non-food suppliers. The Company offers over 15,000 own-brand products and has approximately 770 convenience stores. The Company offers groceries under various categories, such as fruit and veg, meat and fish, dairy, chilled, bakery, frozen, food cupboard, drinks, health and beauty, baby, household, pet and home. Sainsbury's Bank provides a range of products, including insurances, credit cards, savings and loans. more »

LSE Price
UP Global Sourcing Holdings plc is a United Kingdom-based owner, licensee, designer, developer and manager of a series of brands focused on the home. The Company develops, designs, sources and distributes a range of consumer products, focused on six product categories: small domestic appliances (SDA), housewares, audio, laundry, heating and cooling, and luggage. Its owned brands include Beldray, intempo, Constellation and Progress, and its brands under license include Salter and Russell Hobbs. It also offers products under brands, such as American Originals, George Wilkinson, Giles & Posner, Inspire, Portobello, Prolectrix and ZFrame. It products are sold to a cross-section of both national and international multi-channel retailers, as well as other national retail chains. It sells its range of products to over 300 retailers across approximately 40 countries. The Company caters to retailers, supermarkets, general retailers and online retailers. more »

LSE Price
Luceco plc offers a range of brands, including Luceco, BG Electrical, Masterplug and Ross. The Company's products include Luxpanel, Epsilon and ambient lighting. Luceco light emitting diode (LED) lighting provides commercial and domestic lighting solutions. BG Electrical is a wiring accessory manufacturing brand, which serves electrical trade and specifiers. BG Electrical's products include White Rounded Edge, Nexus Flaplate Screwless, Nexus Metal, Nexus Storm, Nexus Grid and Metal Clad. Masterplug supplies portable power equipment through do-it-yourself (DIY) outlets and street retailers. Masterplug offers products under various categories, including indoor power, such as plugs and adaptors, sockets, chargers and cables; outdoor power, such as case reel, weatherproof box and extension leads, and workpower, such as trailing sockets, inline connectors, cassette reels and cable reels. Ross offers a range of audio visual and home entertainment products. more »

LSE Price