Small Cap Value Report (Mon 30 Apr 2018) - SBRY/ASDA, UPGS, LUCE, IGE, REDS, SND
Good morning! I'm back home after a truly fantastic week which culminated in the Mello 2018 conference in Derby. Congratulations to all the organisers of this event, particularly David. I can only imagine how much work was involved behind the scenes.

Monday morning news is plentiful:
We also have trading updates from:
Edit; I elected to cover Image Scan Holdings (LON:IGE), instead of World Careers Network (LON:WOR), in response to a reader suggestion.

---
Share price: 310p (+15%)
No. of shares: 2189 million
Market cap: 6,786 million
Combination of J Sainsbury & ASDA

Results highlights look fine, overall. And the profit expectation for 2018/2019 is in line with expectations.

Underlying profit before tax increases by 1.4% to £589 million. Guidance for next year is £629 million.
Incidentally, these (unaudited) results are for the 52 weeks ending 10 March. We should reward companies who report in a prompt manner - much better than being kept in the dark for several months.
Despite the positives, note that return on capital employed has fallen slightly, from 8.8% to 8.4%, by the company's own measurements.
By Stockopedia's measurement, return on capital is lower than this: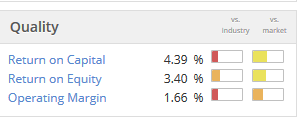 Supermarkets don't seem to have a great track record when it comes to generating attractive returns on capital.
One of Terry Smith's best articles, in my opinion, was written in 2014 for the Financial Times on the subject of Tesco (LON:TSCO), and why he would never own shares in it. He includes the following chart: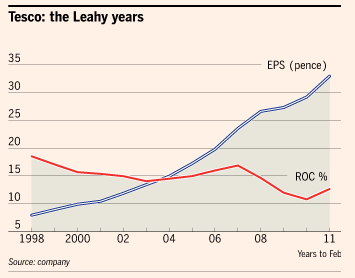 This return on capital metric can be measured in different ways, but…

Finish reading with a 14 day trial
Already have an account?
Login here