Small Cap Value Report (Mon 4 Apr 2016) - SEPU, CTG, BLV, MCO
NB. This report below is a catch-up report for Mon 4 Apr 2016 (a week ago).
For the latest report (Mon 11 Apr 2016) please click here.
Good day!
This is a catch-up report, which I'm writing on Sun 10 Apr 2016. We don't want gaps in the sequence of reports, and a number of readers have asked me specifically to look at Sepura (LON:SEPU) which warned on profits on 4 Apr, so here goes.
---
Share price: 120p (down 39% on the week)
No. shares: 184.4m
Market cap: £221.3m
I last reported on this Cambridge-based maker of special radios for emergency services & others, here on 22 Oct 2015. Without wishing to sound too self-congratulatory, I foresaw the main risks with this share in that report - namely lumpy order intake, and excessive debt, which have given rise to a profit warning on 4 Apr 2016, just after the financial year ended 1 Apr 2016.
Profit warning - the presentation of this statement is very good, with a summary in bullet points, then more detail below. Here are the bullet points (with my wonky highlighting for the key points);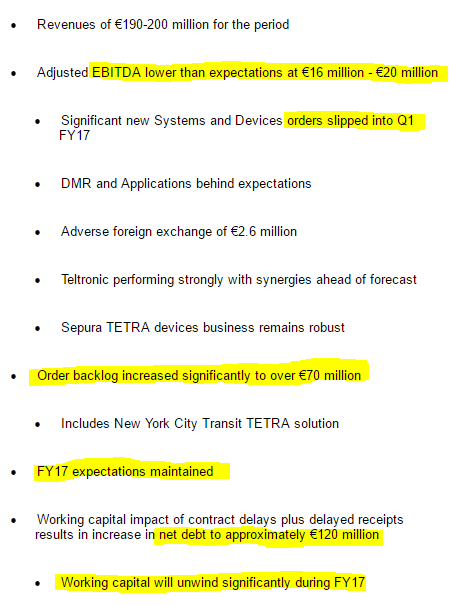 So the main issue is apparently that two orders did not close by the year end date, but are expected to close "early in FY 2017" (FY = financial year ending in 2017, i.e. y/e 1 Apr 2017).In that case, surely the forecasts for FY2017 would be increasing, not remaining static? So that doesn't particularly stack up, to my mind.
When I see order delays, but no increase to subsequent year forecasts, it usually means that the order delays are symptomatic of deeper inadequate demand. Also, order delays are very often order cancellations - but the customer hasn't yet told the supplier that is the case. So there's a heightened risk that there could be a second profit warning from Sepura in FY2017, in my view.
The company has a fundamental problem, and this has been the case for years, that its orders are lumpy & difficult to predict. Delays are frequent, as quite a lot are public sector, where bureaucracy & budget constraints can cause long delays or cancellations. For this reason, I feel Sepura shares should be on quite a low PER, to reflect considerable uncertainty over…

Unlock the rest of this Article in 15 seconds