Small Cap Value Report (Mon 6 Jan 2020) - RBG, GHT, ALT, AVAP
Good morning, it's Paul here.
There's not much company news today, so I'm taking it easy on timings. After covering the small amount of company news, I'll chat about some macro stuff. EDIT - it's just not working today, so I'm drawing a line under this report.
Today's report is now finished.
Revolution Bars (LON:RBG)  (I hold a long position in this share)
This is one of my big 3 largest holdings, and I believe a fair number of subscribers here also hold. Today's RNS tells us that the trading update for the 26 weeks to 28 Dec 2019 will be published on 15 Jan 2020. The wording, and timings, are consistent with last year, so there is nothing to be deduced from this announcement. Interim results will be out on 26 Feb 2020.
Incidentally, I find it's useful to compare the wording of trading updates with the equivalent announcement the year before, as subtle changes in wording can sometimes be significant.
---
Share price:  127p (up 4% today, at 11:42)
No. shares:  68.3m
Market cap:  £86.7m
Gresham Technologies plc (LSE: "GHT", "Gresham", "Company" or the "Group"), the leading software and services company that specialises in providing solutions for data integrity and control, banking integration, payments and cash management, is pleased to provide the following trading update for the year ended 31 December 2019 ("FY2019").
Background - I last looked at this company here on 4 July 2019, when it issued an upbeat interim trading update. The valuation struck me as very high - a PER of 82 for 2019, and 55 for 2020 forecast.
This share has historically had patches of extremely high valuation, especially in 2003-2005. It subsequently lose those gains.
The two year chart below shows 2 profit warnings (the vertical, red bars), but also a nice recovery in recent months - something we're seeing a lot of at the moment. Catching falling knives has worked well for a lot of shares in the last year, which just goes to show that every investing "rule"  (e.g. never catch a falling knife) only works some of the time!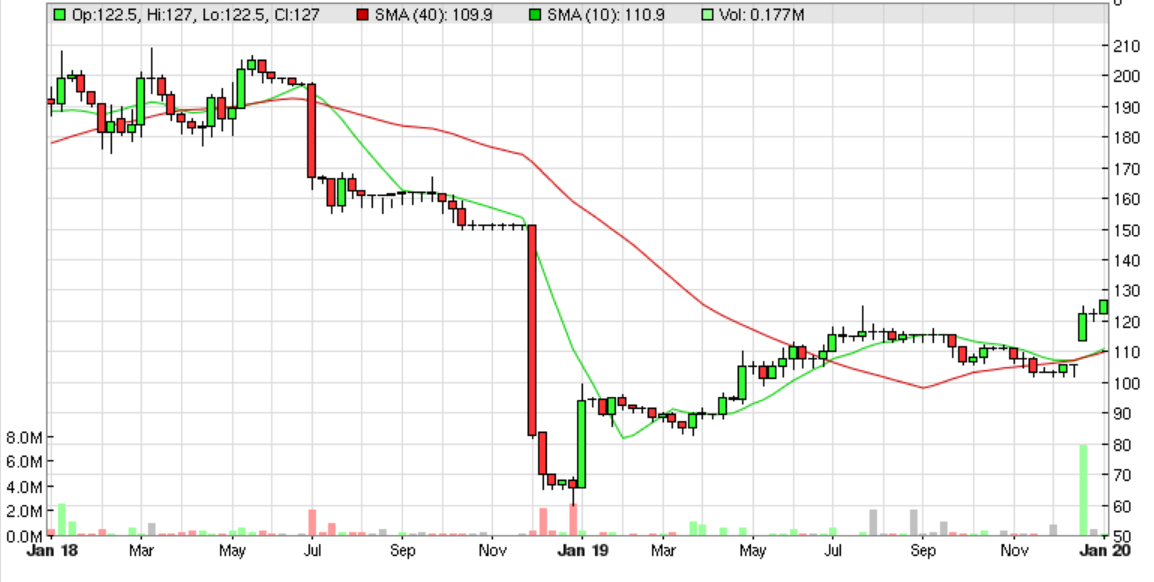 Turning to the longer term chart,…

Unlock the rest of this article with a 14 day trial
Already have an account?
Login here