Small Cap Value Report (Thu 16 Feb 2017) - ZYT, TRI, ALY
Good morning!
It's Paul here. I arrived back in the UK at about 4:30 this morning, after a very pleasant overnight flight on an A380, from Hong Kong. I've been looking forward to my first flight on an A380, and really enjoyed it. It was very quiet on the upper deck, with little engine noise, so I managed to sleep for some of the journey. Hence me being sufficiently with-it to be able to do some writing about small caps this morning. Also I limited myself to only 4 glasses of champagne on boarding the plane, which means a fairly clear head today!
Thanks to Graham for holding the fort whilst I was away. It was my first ever trip to the Far East, but definitely won't be my last. I absolutely loved Hong Kong - clean, modern, marvellous service, and full of pleasant, courteous people - what more could you wish for? I'm sure many (probably most) readers here have been there too.
Right, on to today's small cap news.
---
Share price: 385p (pre market opening)
No. shares: 15.9m
Market cap: £61.2m
(at the time of writing, I hold a long position in this share)
AGM Trading update - a brief update today, saying;
Further to the outlook statement given in December 2016, revenue and trading year to date has continued to be ahead of the equivalent period and remains in line with management's expectations.
That's fine by me - a solid update. Note that broker consensus earnings forecast has been increasing over the last year, which is clearly a positive thing;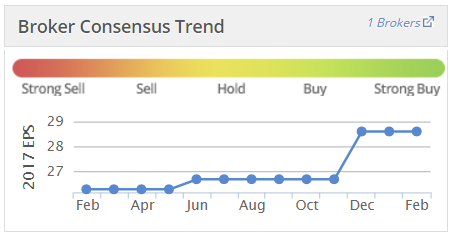 Exports/forex - note that Zytronic is a UK manufacturer of bespoke touch screens, which exports 95% of its production. Therefore the devaluation of sterling has been excellent news - in making Zytronic more competitive against overseas competitors.
The benefit has to date been blunted by forex hedging, but we should see gains begin to come through in the current year (ending 30 Sep 2017). This is a very nice tailwind for the share, and should mean a double benefit of increased sales & margins.
Valuation - Zytronic always seems to look cheap. Perhaps that's because there's not really much growth going on? The figures below also don't allow for the fact that ZYT has a terrific balance sheet, with net cash of £11.6m when last reported…

Unlock the rest of this Article in 15 seconds
Already have an account?
Login here