Small Cap Value Report (Thu 16 Feb 2023) - IHC, CKT, HOME, CREO
Good morning from Paul and Roland!
---
Explanatory notes -
A quick reminder that we don't recommend any stocks. We aim to review trading updates & results of the day and offer our opinions on them as possible candidates for further research if they interest you. Our opinions will sometimes turn out to be right, and sometimes wrong, because it's anybody's guess what direction market sentiment will take & nobody can predict the future with certainty. We are analysing the company fundamentals, not trying to predict market sentiment.

We stick to companies that have issued news on the day, with market caps up to about £700m. We avoid the smallest, and most speculative companies, and also avoid a few specialist sectors (e.g. natural resources, pharma/biotech).
A key assumption is that readers DYOR (do your own research), and make your own investment decisions. Reader comments are welcomed - please be civil, rational, and include the company name/ticker, otherwise people won't necessarily know what company you are referring to.
---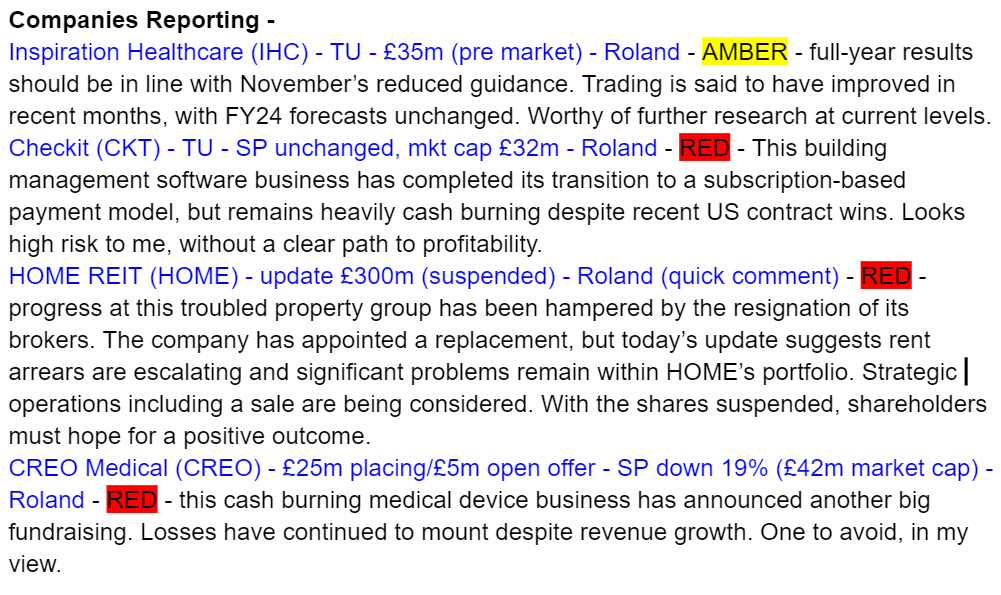 ---
Roland's Section:
51p (pre-open)
Market cap £35m
This company provides medical technology for critical care, with a focus on neonatal intensive care. Inspiration Healthcare's own-branded solutions include non-invasive respiratory management and thermoregulation, while its UK distribution business supplies solutions for surgical procedures and infusion therapies.
Graham covered November's profit warning from this medical equipment manufacturer here. To recap, the company said that problems in China meant that a number of orders would slip back into the following financial year.
Results guidance: Today's full-year trading update confirms results for the year ended 31 January should be in line with revised expectations from November.
"following the close of the financial year ended 31 January 2023, the Group is expecting to report revenues of approximately £41.2 million representing an increase of 0.4% compared to the prior financial year and in line with market expectations. Adjusted EBITDA* is also expected to be in line with market expectations."
An updated broker note from Cenkos is available on Research Tree this morning. Cenkos analysts estimate EBITDA of £3.8m for the current year, valuing the business at around 10x EBITDA.
Cenkos forecasts are consistent with the consensus estimate on Stockopedia for adjusted earnings of 0.7p per share…

Unlock the rest of this article with a 14 day trial
Already have an account?
Login here