Small Cap Value Report (Thu 26 Oct 2017) - CNCT, COS, CTH, ALU
Good morning! It's Paul here.
This is initially just a placeholder article (created the night before), so readers can post your comments on the day's results & trading updates from 7 am. I will then update the article in the usual way, once I've digested some interesting news.
---
Good morning properly! It's a quiet day for small cap trading updates & results, but I will be reporting on 4 companies (as shown in the article header). This has to be early, due to other commitments today.
Share price: 95.5p (up 5.2% today)
No. shares: 247.7m
Market cap: £236.6m
(at the time of writing, I hold a long position in this share)
Preliminary results - for the year ended 31 Aug 2017.
This group is;
a UK leading specialist distributor
By far the largest (in both revenues and profits) part of the business is Smiths News;
Smiths News is the UK's largest newspaper and magazine wholesaling business with an approximate 55 per cent. market share.  It distributes newspapers and magazines on behalf of the major national and regional publishers, delivering to approximately 27,000 customers across England and Wales on a daily basis.  The speed of turnaround and density of Smiths News' coverage is critical to one of the world's fastest physical supply chains.
This raises the obvious question whether this is a dying business? As we know, newspaper circulation is relentlessly falling, due to the popularity of smartphones, and online generally. Well, that doesn't seem to be the case just yet. The Smiths segment reports profits that are flat on last year (well, up 1%, on an adjusted basis). It's shown as the first item in the table below "News & Media - News Distribution";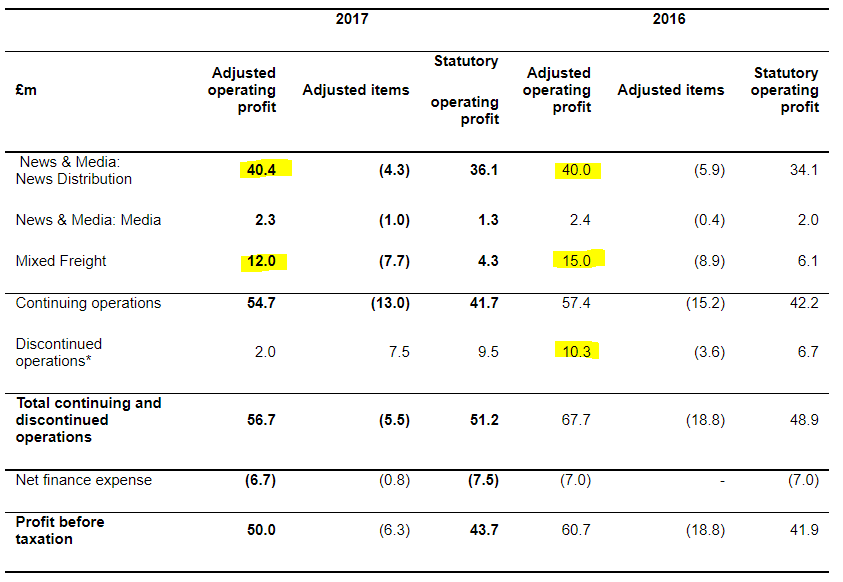 "Mixed Freight" is the other significant division, which is parcel delivery firm Tuffnells. Note that £15m cost savings are planned in the next 2 years, through integrating Smiths News and Tuffnells. So that should hopefully see profits cope with further likely falls in newspaper & magazine circulation. Price rises are offsetting some of the circulation falls.
The other thing to consider, is that if you have a sophisticated & fast network for delivering to newsagents & other shops, then you can distribute other things to them at the…

Unlock the rest of this Article in 15 seconds
Already have an account?
Login here