Small Cap Value Report (Thu 27 Jun 2019) - STAF, TND
Hi, it's Paul here!
I'm thinking of ditching the 7-8am quick view format, because;
1) Very few subscribers here seem to read the SCVRs early (usually only about 15 reads by 9 am),
2) It's very stressful for me, starting the day running flat-out, against a short (self-imposed) deadline, and drains a lot of my energy, for little benefit to everyone.
3) Mr Contrarian posts an excellent initial view every day which usually covers the main points (so I'm pointlessly duplicating his work, arguably)
Therefore, providing there are no serious objections, I'm minded to go back to the old format, of me having less time pressure, and taking my time to rummage through, and report on, the most interesting RNSs of the day, by mid morning towards lunchtime. Then later, more in-depth articles, if it takes my fancy, and needs more work (typically 2-4 hours per company results statements).
I think that's what most subsribers want anyway, but there's no harm in experimenting with different formats & ideas. Then settling with whatever format we all like the best.
---
Share price: 116p (down c.23%, at 10:43 - volatile, so likely to change)
No. shares: 27.9m existing + new shares: 34m placing + 7m open offer (if fully taken up) = 68.9m
Market cap: (assuming placing & open offer fully taken up)  £79.9m
This is a financial distressed staffing agency. It made too many debt-fuelled acquisitions (7 in 2018 alone), and then ran into serious difficulties once it emerged that it had underpaid staff in breach of minimum wage regulations. The shares were suspended for a while, but (bizarrely) resumed trading whilst the current fundraising was progressed.
There are 2 announcements today (so far);
Final Results - for the year ended 31 Dec 2018. The deadline for publication is 6 months, so Staffline has only narrowly avoided the shares being suspended again. The RNS today is just 6 pages long, as it's a summary only. The full annual report is here on Staffline's website. I'll plough my way through that later.
On an initial skim, this net debt bridge is very interesting, as it clearly shows where management went wrong - taking on too much debt to fund a reckless acquisition spree;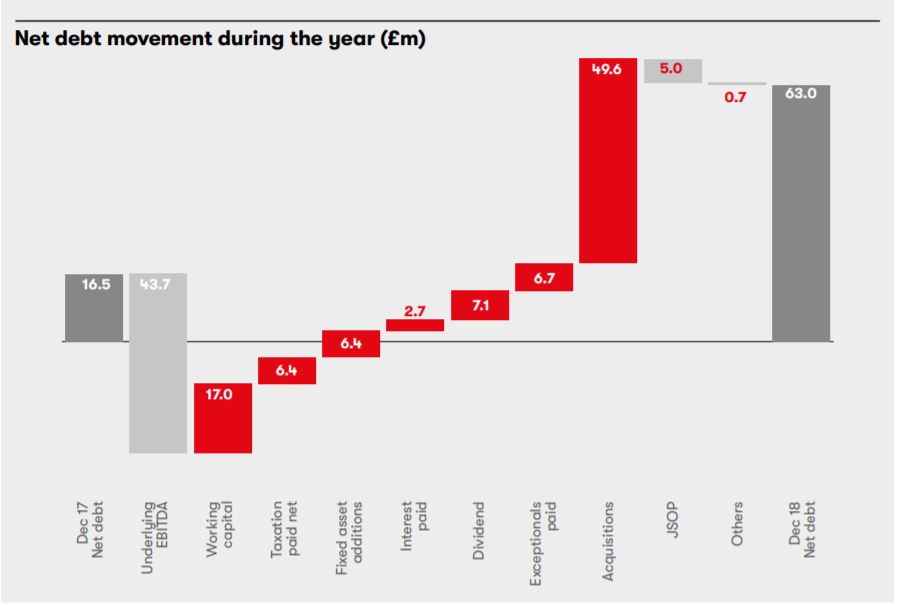 …

Unlock this Article with a 14 day free trial
Already have an account?
Login here