Small Cap Value Report (Thur 14 June 2018) - RBG
Good morning all. I am writing to you from a secret location within Hever Hotel, in advance of presenting to the Mello conference. For obvious reasons, this report will be shorter than usual.
---
Share price: 136.5p (-13%)
No. of shares: 50 million
Market cap: £68 million
More issues at Revolution. As MrContrarian puts it, "excuses ahead of expectations".
"challenging and volatile trading conditions"
It's tough out there at the moment.
Total sales for the Group in the second half up to 9 June 2018 are up by 7.3%. However, like-for-like sales are down 1.7%. Adjusted EBITDA is now expected to be below market expectations and in line with last year.
Like-for-likes haven't been going far for Revolution. In H1, they improved by just 0.4%.
Full-year adjusted EBITDA, adjusted for pre-opening costs, is set to be around the same level as last year: £15.1 million.
Pre-tax profit was much lower: £3.6 million.
This company has a pattern of very complicated adjustments, forcing investors to make up their own mind about what the true level of profitability is.
The weather has been too hot and too cold, and we have a reference to 5 new venues this year, when 6 had been promised.
Bulls will find some hope in the reference to the new Food Director, hired "to drive a step change in Food sales and profitability".
I can't possibly agree with this, since the casual dining sector is widely acknowledged to be over-supplied.
Revolution doesn't appear to be differentiating itself particularly well as a drinks venue, so why should we expect it be able to differentiate itself in food?
There are no prizes for guessing that I'm not at all tempted to dabble in these shares.

On the positive side, net debt is likely to remain at a manageable level - last reported at £4.5 million in the interims - and the shares are superficially cheap against earnings. It's also conceivable that one of last year's suitors will come back with another offer, if they still believe that the EBITDA multiple is cheap.
The Price to adjusted EBITDA  multiple is now about 4.5x (perhaps closer to 5x on an enterprise value basis), and that does seem to be at the cheaper end of the normal range.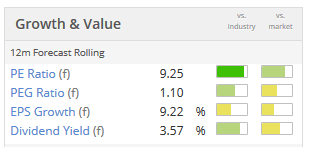 On the negative side, however, the company looks at the end of the day to be a somewhat ordinary bar chain, with weak…

Unlock the rest of this Article in 15 seconds
Already have an account?
Login here