Small Cap Value Report (Thur 21 June 2018) - TRAK/QTX, STE, LPA, DC., DUKE
Good morning!
Today we have:
In big-cap land, Dixons Carphone (LON:DC.) announced annual results too - worth a brief mention.
---
Share price: 108p (+12%)
No. of shares: 35.9 million
Market cap: £39 million
It feels like an important contract for Trakm8, the telematics company.
The contract, initially for three years, provides Intelematics Australia with data, including automotive diagnostics, and a 4G self-fit on-board diagnostic ('OBD') device.  It is believed that this is the first 4G OBD device to meet the requirements of the Australian Cat M1 networks.  The demand over the three year period is expected to amount to circa 40,000 connections.
According to the full-year trading update (for the financial year ending in March), Trakm8's total connections increased to 251,000 during FY 2018. So this contract represents a 16% increase on that number.
Stockopedia user blondeamon has written an article at this link arguing that the number of connections in fleet management is what matters from a valuation and recurring revenue point of view, and he estimates that this contract represents a 57% increase on Trakm8's existing year-end fleet connections.
It looks to me as if the market is fatigued with this stock.
See how EPS rose rapidly before disappointing last year (left-hand-side).
Then see how the P/E multiple has failed to reach its previous heights (right-hand-side).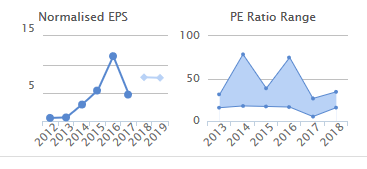 And yet the earnings momentum has looked pretty good. EPS forecasts have been firming: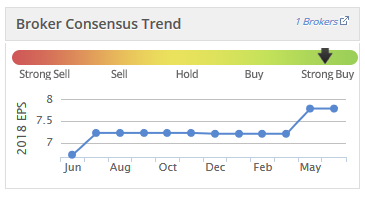 If I was going to put my sceptical hat on, I would say that the contract announced today is only for three years, and we aren't given any financial numbers to base our investment decision on. Perhaps that would be commercially sensitive?
I think I'll refrain from saying much more until we get the full-year results. These are set to be released on July 2.
One thing I will say is that I've been impressed by the quality of performance…

Unlock the rest of this article with a 14 day trial
Already have an account?
Login here