Small Cap Value Report (Thur 26 July 2018) - FB, BATS, FRAN, BON, ARW
Good morning!
I've been having a listen to the Facebook ($FB) earnings call this morning.

Mainstream media is talking about an imminent "bloodbath" in tech stocks, as the Facebook share price is set to fall c. 20% and the other FANG stocks (Amazon, Netflix, Google), and tech stocks in general, are set to drop back. Some hysterical language is being used (CNBC).
A 20% fall in the Facebook share price would indeed be huge in dollar terms, as the market cap was previously in excess of $600 billion.
I think It's still much too soon to announce the death of FANGs/tech, however. The Facebook share price will still be up compared to where it was a year ago.
If you look at the bare numbers, you see that Facebook's Q2 2018 revenues are up 42% compared to Q2 2017. The disappointment relates to the outlook, as the rest of the year is likely to see growth slowing down. But I don't see why long-term Facebook holders would be panicking.

Stocko algorithms like it very much, too. It will have a bit more value later today (although slightly less momentum, I guess)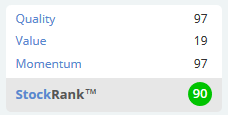 As someone who is a net buyer rather than a net seller of stocks, it would suit me personally to see a big sell-off in the NASDAQ and for this to spread FUD (fear, uncertainty and doubt) to other stock markets. But I reckon it's still too soon to call the top.

Incidentally, If you're interested in US stocks, and maybe haven't traded them much before, it's important to familiarise yourself with the EDGAR company filing system at the SEC. The terminology of the system does take a little bit of getting used to. It's worth it, though. I have found that US company disclosures are very clear.

---
Right. onto some UK stocks, which is what you're all here for!
Today, I'm planning to look at: 
In big-cap land,

Unlock the rest of this Article in 15 seconds
Already have an account?
Login here