Small Cap Value Report (Thur 28 Feb 2019) - GOCO, FOXT, PHD
Good morning!
I'm afraid I lost internet connection at work for several hours, preventing me from researching and publishing. Sorry about that.
I did manage to do a phone interview with Duke Royalty (LON:DUKE) at 3pm so I'll be publishing that soon.
I'll try to fill out today's report with some more companies:
---
Share price: 65.5p (-6%)
No. of shares: 418 million
Market cap: £274 million
(Please note that at the time of publication, I have a long position in GOCO.)
I've been holding this price comparison group since December. Those who've been watching it for a while might remember that ZPG (Zoopla) tried very hard to buy it for 110p in 2017.
Last year, it was reported that private equity groups wanted to take it out at c. 103p.
So I've been feeling quite happy about my sub-70p purchase.
It trades at a single-digit PE, and spends most of its earnings trying to grow the business. It targets a 20%-40% payout ratio, meaning that 60%-80% of earnings are available for reinvestment.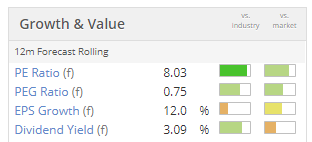 In 2018 (the figures just announced today), GOCO generated £35.5 million of cash from operations.
It ended up spending almost £54 million on investments, mostly on external businesses.
I do much prefer organic growth rather than an aggressive acquisition strategy. In this specific case, however, Gocompare's acquisitions seem highly complementary, and aren't so large as to make me uncomfortable.
GoCompare now owns:
GoCompare is also internally creating:
Weflip, a new automated energy switching service.
Let's consider today's results in some more detail.
Because there are multiple segments, we should consider them separately.
Price comparison
This is the core GoCompare.com, plus Energylinx (acquired in June 2018).
Revenues are down 3% (£5 million), but through careful management of the ad spend to focus only on the most profitable opportunities, distribution costs are down 25% (£12 million).
Because of this, the price comparison "trading profit" is up 11% (£6.6 million).
"Trading profit" could be seen as…

Unlock the rest of this Article in 15 seconds
Already have an account?
Login here