Small Cap Value Report (Tue 1 May 2018) - CNCT
Good evening/morning,it's Paul here.
Right, let's try to get this article back on track, somewhat late.
There was very little of interest actually, on the day.
Share price: 55p
No. shares: 247.7m
Market cap: £136.2m
(at the time of writing, I hold a long position in this share)
Connect Group, a leading specialist distributor, is today announcing its Interim Results for the six months ended 28 February 2018...
Here are the financial highlights, which look rather disappointing to me (this is the first time I've seen the numbers, writing on 2 May 2018, as I was too busy to look at them on the release date of 1 May 2018).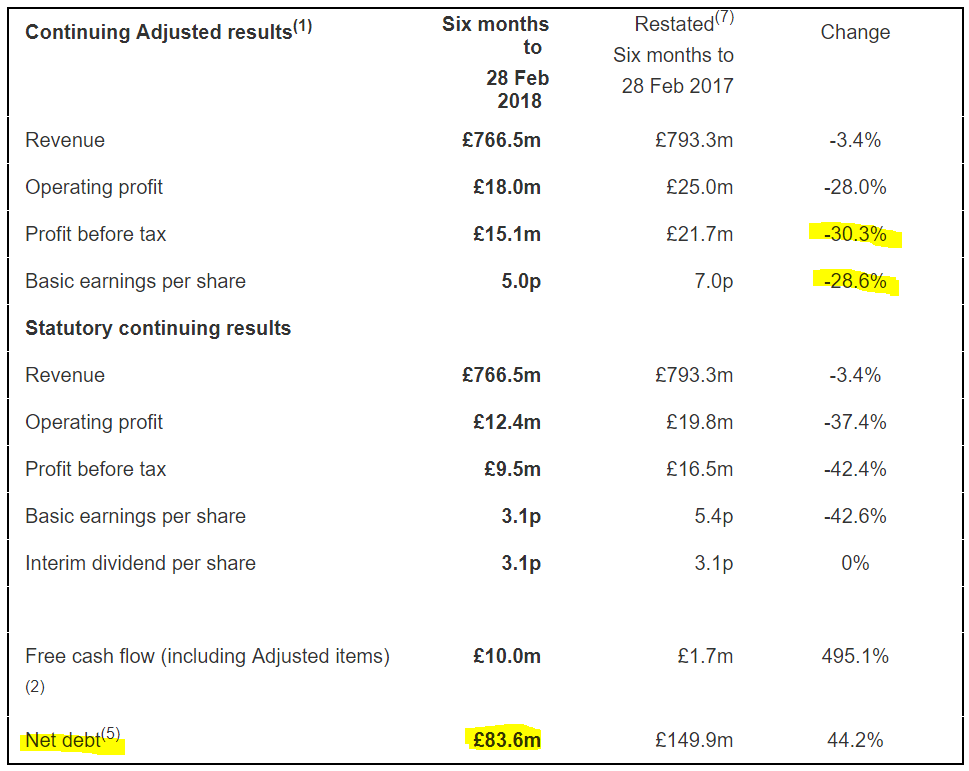 If we assume that H2 might be the same as H1, then it looks as if full year adjusted EPS could come in around the 10p level. That's a good bit lower than the forecast consensus of 13.7p.
I can't find any recent broker research on this, to assist me in valuing the shares.
Dividends - the very high yield was a key reason to hold this share. Surprisingly, the interim divi of 3.1p has been maintained. However, the comments below suggest to me that management could be warming up shareholders to potential future cuts in divis;
The interim dividend has been held at 3.1p.

Looking ahead, in the light of the disposal of Books and Education & Care divisions, the Board will carefully consider the optimum allocation of the Group's excess free cash, balancing the capital requirements of the business and shareholder returns with an ambition to reduce net debt over time.
CFO steps down - as mentioned recently, I'm taking an increasingly dim view of FD departures.
Outlook - my finger was hovering over the "sell" button, but the outlook comments below have made me stop and think - this is a lot of business, for only £136m market cap;
Expectations for the full year are unchanged from the trading statement issued on 22 January 2018, with Full Year Adjusted Profit Before Tax in the range of £42m-£45m.
It's great to see companies spelling out precisely what profit expectations are. This helps investors value the shares.
Divisional performance - Tuffnells seems to be…

Unlock the rest of this Article in 15 seconds
Already have an account?
Login here