Small Cap Value Report (Tue 11 Jul 2017) - MKS, BEG, MCB, IKA, AMO, BGO
Good afternoon, it's Paul here.
I see that Marks and Spencer (LON:MKS) has dropped about 5% today, on a soft-ish Q1 update. This is my largest short position, so good news for me. Shorting things seems rather unsporting, or downright evil. However, it can be a great, albeit dangerous, way to hedge long positions. It seems to me that the retail sector is facing such serious headwinds, that it's only sensible to bet against some of the weaker retail giants.
Costs are rising, but it's very difficult to achieve LFL sales increases, and maintain margins. That tends to squeeze out wafer thin profits. So the retail sector remains a blindingly obvious shorting opportunity, in my view.
Share price: 49.7p (up 0.4% today)
No. shares: 127.7m
Market cap: £63.5m
(at the time of writing, I hold a long position in this share)
Final results - for the year ended 30 Apr 2017.
Begbies is a firm of insolvency practitioners, which is a highly regulated profession, something like specialist lawyer/accountants. They manage insolvency procedures, such as company administrations & liquidations, according to a strict & complex set of laws.
Begbies core insolvency market has been subdued since the financial crisis, because near-zero interest rates have allowed many struggling companies to survive. Banks have been more tolerant of struggling companies than in previous recessions, as recoveries of debts have often been better by allowing companies time to restructure.
I interviewed the Exec Chairman here in Oct 2016.
In recent years, Begbies has kept careful control of its overheads, and bought in some growth, by making complementary acquisitions - e.g. property auctioneers.
As you can see from the financial highlights section, progress has been steady, rather than spectacular;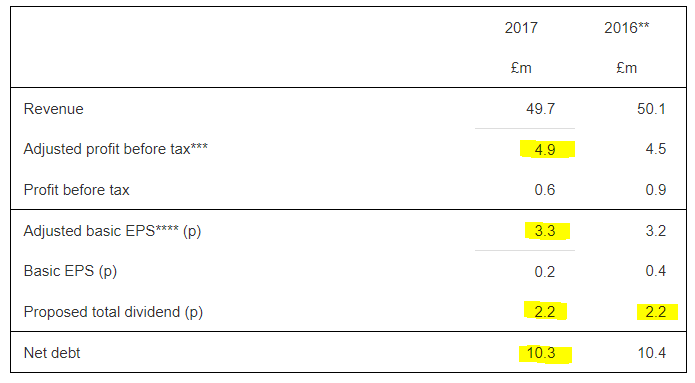 The PER is 15.1 on the actual adjusted EPS. That may seem a tad pricey, given the tepid earnings growth. However, I think this should be seen in context, as possibly low point in the cycle for earnings. The company says insolvencies are at the lowest point since 2004.
One broker note I've seen had 3.2p forecast EPS for 4/2017, so it looks like a slight beat.
Dividends - the 2.2p divi is maintained,…

Unlock the rest of this Article in 15 seconds
Already have an account?
Login here