Small Cap Value Report (Tue 14 May 2019) - SDRY, GRG, CML, OTB, IDEA, PMP
Good morning, it's Paul here!
Here is a catch-up section, before I look at today's news.
---
Share price: 447p
No. shares: 82.0m
Market cap: £366.5m
A reader asked me to comment on this most recent trading update from 9 May 2019. It is headed with this comment;
Trading performance continues to be weak; initiatives to stabilise and improve performance underway
This has to be seen in the context of the recent Board upheaval, where the founder came back, and kicked out the under-performing old Board. That struck me as a good thing. However, the voting figures made clear that shareholders did not agree, as there was little support for Dunkerton from outside shareholders. That's important as it could mean an overhang of potential sellers in the share, who don't like the new (returning) management. Hence I'm wary of buying into this share, as that overhang could persist for some time, perhaps?
The 9 May 2019 update covers this period;
Superdry announces a trading update for the 13-week period from 27 January 2019 to 27 April 2019 ('Quarter 4').
It's another profit warning;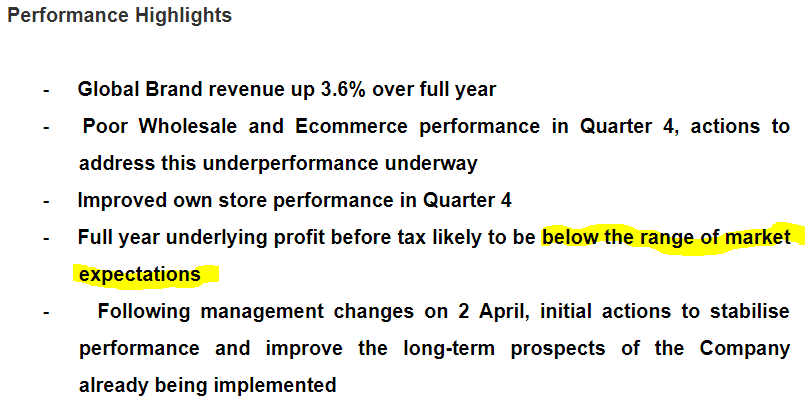 That's not really a surprise, as new (returning) management has not had time to do much yet. Plus there's likely to be a desire to blame continued poor performance on the old management, and then do a kitchen-sink job in the figures, which lays the ground for a subsequent improvement in performance. That's what usually happens!
Revenues - are showing a deteriorating trend (i.e. Q4 worse than H2, and both worse than FY);
Group revenue flat year-on-year (0.0%), but declined 4.5% in Quarter 4. 
Specifically:

 

 Wholesale revenue up 3.6% to £335.0m year-on-year, though declining 9.3% in Quarter 4.  The Quarter 4 decline was driven by increased levels of returns, lower than anticipated in-season orders and decisions not to ship to customers that had reached their credit limits.
The last point, about customers reaching credit limits, concerns me in particular. This suggests that there could be elevated bad debt risk in SDRY's sales ledger. In my sector experience, if deliveries to customers have to be put on hold, due to credit limits being reached (or exceeded), then the customer is clearly in financial trouble. That…

Unlock this Article with a 14 day free trial
Already have an account?
Login here