Small Cap Value Report (Tue 15 Oct 2019) - MUR, ACSO, DOTD, WGB, DRV, BRY
Good morning, Paul here.
Estimated time of completion today is 13:00 - I have to escape from London, so need to get this out of the way & then catch a train back to the south coast.
Update at 11:41 - today's report is now finished.
---
Share price: 675p (unchanged today, at 08:06)
No. shares: 9.0m
Market cap: £60.8m
Possible offer for the company
It sounds as if news of this possible bid might have leaked out. With the share price zooming up, to the level of the possible bid, at 675p, then there's no premium price at all now.
Discussions with Sovereign are at an advanced stage with due diligence enquiries complete. The Board confirms that, should Sovereign or an entity controlled by Sovereign announce a firm intention to make an offer pursuant to Rule 2.7 of the Code on the above terms, the Board's current intention is to recommend that Murgitroyd shareholders accept the offer.
Shareholders would be entitled to ask why the Directors want to sell the company at the current share price? A bid premium of c.30-40% is more normal.
On 17 Sept 2019 the company announced quite good results for FY 05/2019, with basic EPS up 11.9% to 33.2p. Therefore this deal values the company (patent attorneys) at 20.3 times earnings - that looks a full price to me.
Although the chart does make you wonder if a bit of insider dealer might have been going on, with regards to the bid approach?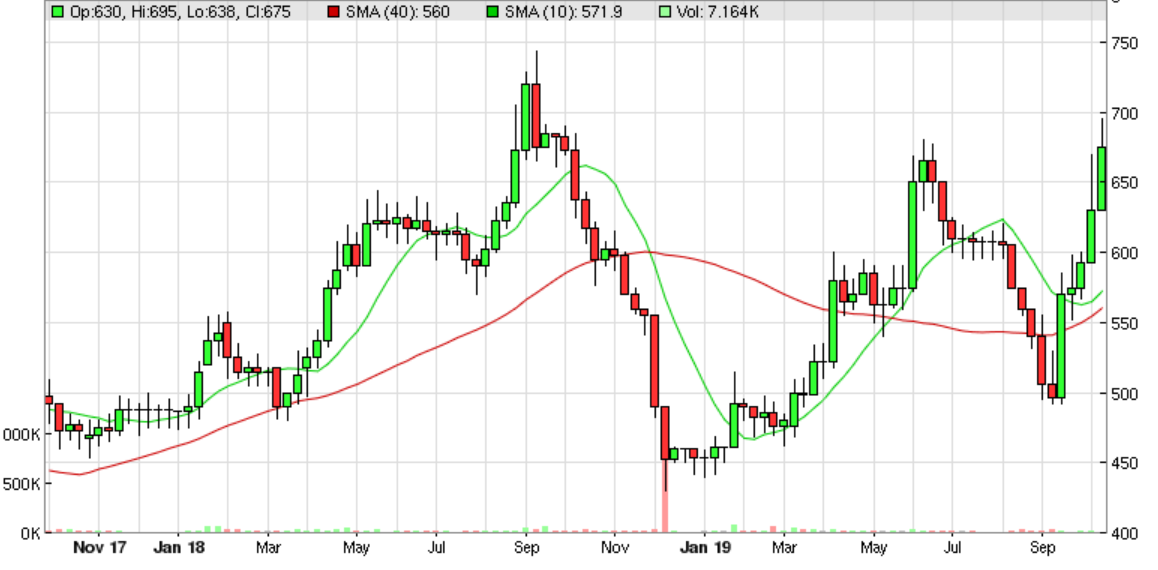 ---
Share price: 675p (down 15% today, at 08:18)
No. shares: 27.6m
Market cap: £186.3m
Update on the formal sale process
accesso Technology Group plc (AIM: ASCO), the premier technology solutions provider to leisure, entertainment, hospitality, attractions and cultural markets, provides the following update on its announced formal sale process (the "Formal Sale Process") under the City Code on Takeovers and Mergers (the "Code").
It's clear that nobody really knows how to value this company. The share price peaked at almost 3000p in Sep 2018, valuing it then at c. £828m. It's since lost almost 78% in price. The announcement of a formal sale process starting, in Jul…

Unlock this Article with a 14 day free trial
Already have an account?
Login here