Small Cap Value Report (Tue 19 Dec 2017) - DOTD, KOOV, NWF, KMK
Good morning, it's Paul here.

Firstly, please accept my apologies for the break in coverage last week. Things are back on track now, so we'll have full coverage this week. Hopefully I'll also be able to recap on one or two interesting things from last week too.
Today I'll be reporting on results or trading updates from: DotDigital, Koovs, NWF, and Kromek.
---
Share price: 97.0p (up 1.0% today, at 08:15)
No. shares: 295.8m
Market cap: £286.9m
AGM statement (trading update) - this company calls itself;
... the leading provider of intuitive software as a service ("SaaS") and managed services to digital marketing professionals through the 'dotmailer' platform
This share has been a long-standing favourite of mine here over the past 5 years, but (stupidly) I've always baulked at the high valuation - even when it was 17p per share! It just goes to show, that good companies grow into, and soon overtake an apparently high valuation.
The company has a 30 June year end, so today's update covers the bulk of H1 06/2018.
"The Group has seen the positive trading momentum highlighted in the 2017 preliminary results continue into the first half of the new financial year.

This progress is in line with management expectations and is driven by strong international sales and growing demand for dotmailer in the ecommerce market...
Sounds good.

Note that the company spent about half its cash pile recently, buying a group of companies called Comapi for £11m. This is a messaging software company, which seems to be in the process of being integrated into DOTD's existing software.
My opinion - this seems a quality outfit, which hasn't put a foot wrong. The market has rewarded that with a multibagger share price over the last 6 years.
The StockRank sums it up very clearly - quality & momentum, but pricey;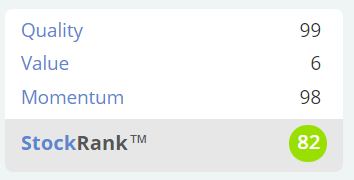 The interesting thing here is that bulls could argue that DOTD is only scratching the surface of its potential markets. More detail is given in today's announcement about the "Connectors" between DOTD's dotmailer platform, and ecommerce leaders such as Shopify, and Magento (which are widely used platforms for ecommerce sites).
Another impressive trait of DOTD is that its growth is…

Unlock the rest of this Article in 15 seconds
Already have an account?
Login here