Small Cap Value Report (Tue 19 Sep 2017) - PRV, EYE, FCCN, ESCH, CCT, SDY, BGO
Good morning, it's Paul here!

There are loads of results & trading updates today, so I'll wade through as many as I can manage.
End of the momentum trade?
It's intriguing how so many share price charts look remarkably similar at the moment. When we're doing well on the markets, it's tempting to think that this is due to one's own genius! However, then you realise that many similar type of shares are all going up. In the last couple of years, the action has mainly been in growth/momentum shares. So anything that's showing decent growth, has been re-rated upwards. Then other people just started buying those shares because they had gone up a lot, for the momentum trade.

I think the momentum trade has possibly come to an end now. We're seeing lots of momentum shares falling sharply at the moment, as people bank profits. Also I think it's dawning on some people that a lot of shares have risen far too much, and are now over-priced.

Significant price corrections have happened recently on Purplebricks (LON:PURP) (in which I hold a long position), Fevertree Drinks (LON:FEVR), Hotel Chocolat (LON:HOTC) , Porvair (LON:PRV) , Frontier Developments (LON:FDEV) , Tristel (LON:TSTL) , and loads more shares that are popular with private investors. So I've been looking at these recent big fallers, hunting for bargains. However, even after a sharp sell-off, I'm really not finding any value.

Take Hotel Chocolat (LON:HOTC) for example. As you can see from the chart below, it's fallen a lot recently. However, Stockopedia shows the forward PER as being 30.7 - nowhere near value territory. The company is growing, but at a fairly pedestrian rate, so I certainly wouldn't pay anything near a PER of 30 for it. So what on earth were people thinking, when they chased the share up to 400p in May 2017? Maybe they thought that growth would be faster than existing broker forecasts?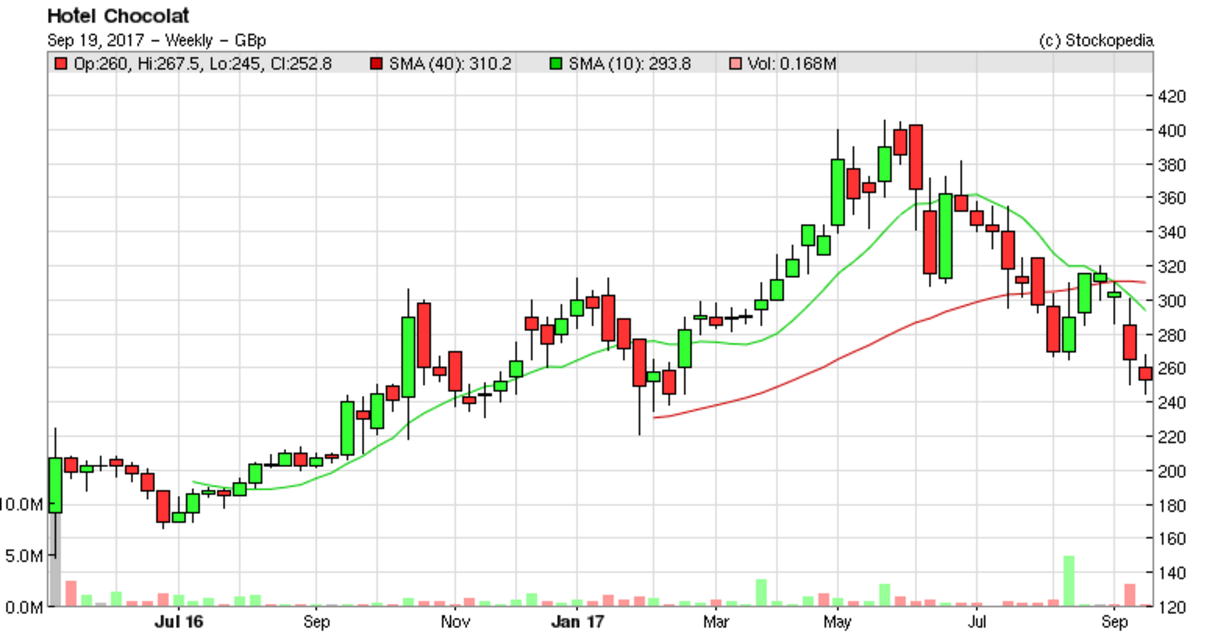 My feeling is that, with valuations…

Unlock the rest of this Article in 15 seconds
Already have an account?
Login here