Small Cap Value Report (Tue 26 Nov 2019) - DLAR, TET, IMO, RNWH, SFR, TENG, HMLH
Good morning, it's Paul here.
Estimated timings - this depends on how much news there is, but I'll be aiming to finish here by about 2pm.  Update at 14:09 - it's taking longer than expected, to I'll keep going, with shorter sections from now on. Should be done by 3pm. Update at 14:48 - today's report is now finished.
I've reported on 7 companies' interim or final accounts today (see header above)
---
Share price:  141p (down 19% today, at 09:05)
No. shares:  103.9m
Market cap:  £146.5m
De La Rue plc (LSE: DLAR) ("De La Rue", the "Group" or the "Company") announces its half year results for the six months ended 28 September 2019 (the "period", "H1" or "half year"). The comparative period was the six months ended 29 September 2018.
This group prints bank notes, and other security products.
As you can see below from the 3-year chart, this has been a disaster for shareholders. DLAR used to be considered a safe, high yielding share. Not any more;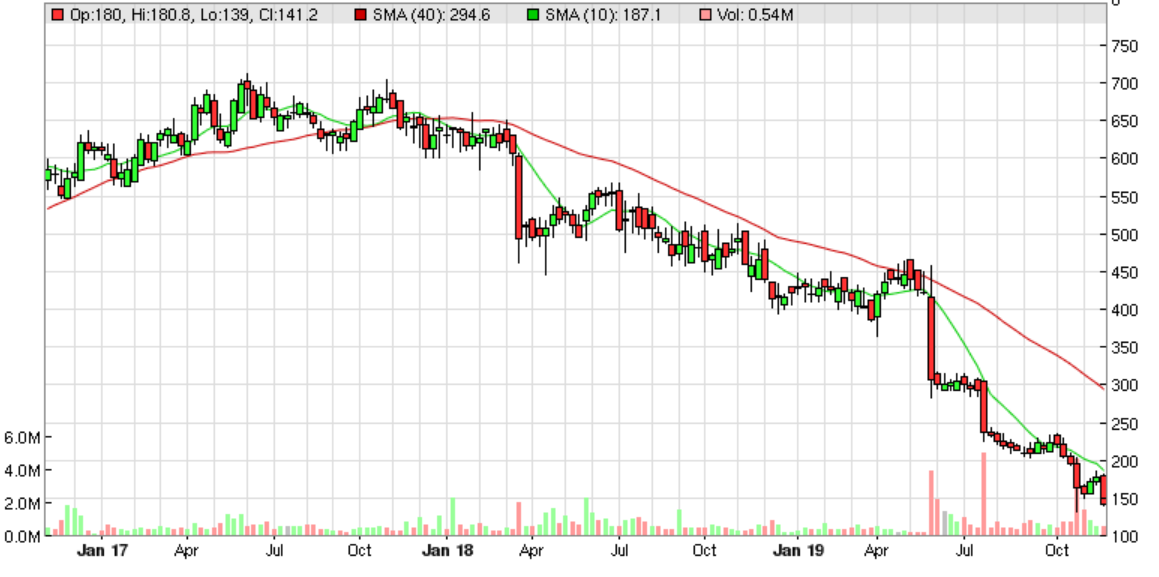 I can't seem to find my previous notes on the company, but from memory there have been a series of problem/lost contracts, causing profit warnings (shown by solid red vertical drops in the share price chart above), an SFO inquiry over possible corruption in South Sudan, and disputes over the composition of the Board, with several main board members leaving.
Interim results today are poor, as expected;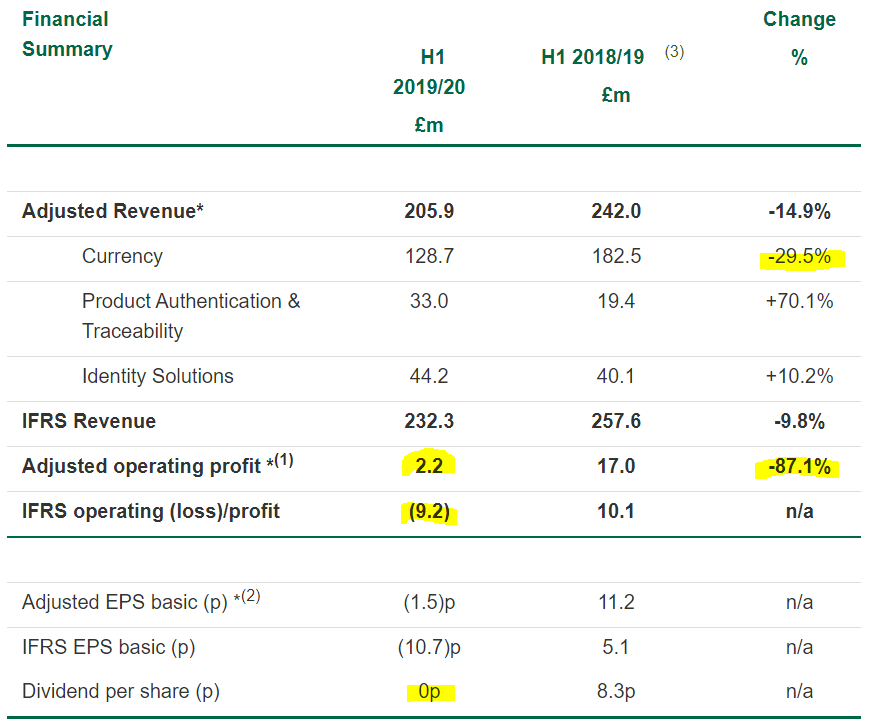 In a nutshell, profitability has collapsed, and dividends have been suspended. The main culprit is its currency division, where a 29.5% fall in revenue was about double the increase in revenue in the other 2 divisions. 
Note how there seem to be 2 good, profitable businesses, and the problem, loss-making currency division;

I quite like situations like this - where problems are confined to one part of the business, that can be turned around. Investors and banks are more likely to continue supporting the overall business, if there are good bits within it, trading well.
I'm not sure how the recent disposal would affect the above figures…

Unlock this Article with a 14 day free trial
Already have an account?
Login here